Awards and Honors
Mathematica staff are widely recognized as experts and contributors to high quality research and innovative methods. Working across a range of disciplines, they are the recipients of a number of prestigious awards and honors.
In 2018, Mathematica received the Communitas Award for Leadership and Excellence in Community Service for our wide-ranging volunteer efforts with Erie Neighborhood House, HomeFront, Miriam's Kitchen, Habitat for Humanity, Lakeview Pantry, and more. The award is hosted by the Association of Marketing and Communication Professionals and seeks to honor organizations dedicated to helping the less fortunate in their communities.
Mathematica's Communications Department won the 2018 AVA Digital Gold award for an introductory video we produced for the Mid-Atlantic Regional Educational Laboratory project. The award honors excellence in digital creativity, branding, and strategy.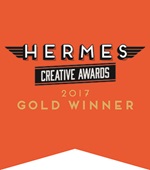 Each year, the Association of Marketing and Communication Professionals recognizes the outstanding efforts of professionals in those fields by hosting the Hermes Creative Award. In May 2017,Mathematica received a Gold Hermes Creative Award in the public relations video category. The video, produced as part of the Alumni Voices research project carried out by Mathematica for the MasterCard Foundation, features young people from across Africa participating in the MasterCard Foundation Scholars Program. The MasterCard Foundation Scholars Program provides access to secondary and higher education for young people who are committed to giving back to their communities. In the video, MasterCard Foundation Scholars describe their hopes and professional aspirations, their commitment to improving their communities, and how the program provided them with opportunities to achieve their full potential.
Mathematica's Communications Department received an honorable mention from PR News in the category of event marketing for the 2016 congressional event called Pi(e) Day on Capitol Hill. Pi(e) Day was Mathematica's first large-scale Hill event for an audience of congressional staff, with more than 250 staff from the Senate, House, Congressional Research Service, Government Accountability Office, and National Governors Association attending. Hill staff participated in activities coordinated by Mathematica and were able to learn more about our focus areas.
In 2016, Mathematica was recognized at the Centers for Medicare & Medicaid Services Quality Conference for "diligent work, authentic collaboration with patients, clinicians and partners and unprecedented national impact on patient safety in all U.S. hospitals." Sue Felt-Lisk, senior researcher, also received a personal recognition presented by Paul McGann, Jean Moody-Williams, and Dennis Wagner together with the Partnership for Public Service.
John Czajka, senior fellow, was named a 2016 recipient of the American Statistical Association Founders Award. The award recognizes members who have rendered distinguished service to the association.
The article "2010 National and State Costs of Excessive Alcohol Consumption," co-authored by Ellen Bouchery, was chosen as American Journal of Preventive Medicine's 2015 paper of the year.
Our disability staff won the 2015 National Academy of Social Insurance Working Together Challenge, which was launched to generate ideas for improving services and supports for working-age people with disabilities. 250 experts participated in the challenge.
Our education researchers won several awards in 2015, including the Walton Family Foundation Award for Best Academic Paper on School Choice and Reform 2014 for their article titled "Do KIPP Schools Boost Student Achievement?" published in Education Finance and Policy and best paper at the 4th Annual International Conference on School Choice & Reform for "Charter High Schools' Effects on Long-Term Attainment and Earnings."
Highlights include an Institute of Medicine report, "Evaluating Obesity Prevention Efforts: A Plan for Measuring Progress," which garnered the National Academies Press Top Ten List for 2013.
Mathematica researchers have also earned the Raymond Vernon Memorial Prize from the Association for Public Policy Analysis and Management in 2011 and 2012.
We were awarded the 2009 Outstanding Evaluation Award from the American Evaluation Association for our research on abstinence. The award recognizes research that can stand alone as a singular example of high quality evaluation, in terms of both methodology and usefulness, and that serves as a model for the field.
Mathematica also won the 2010 Outstanding Contractor Award from the assistant secretary of the Administration for Children and Families, U.S. Department of Health and Human Services for our systematic reviews of pregnancy prevention and home visiting programs.
Our statistics experts received the American Statistical Association, Government Statistics Section, 2011 Pat Doyle Award.
"Effects of Care Coordination on Hospitalization, Quality of Care, and Health Care Expenditures Among Medicare Beneficiaries: 15 Randomized Trials," won the 2010 AcademyHealth award for article of the year as well as the National Institute for Health Care Management Foundation's 2010 research award for excellence in original and creative health care research.
Our cash and counseling study won the 2009 HSR Impact Award from AcademyHealth. The award recognizes research that has had a significant impact on health and health care and promotes examples of outstanding research that have been translated into health policy, management, or clinical practice.