Every December, the anticipation of a new year around the corner inspires us to make more progress on our goals, both as individuals and as part of the communities we serve. As Mathematica's director of foundation engagement, I took some time to think about how we could harness our passion for evidence-informed grantmaking to support foundation leaders, policymakers, and community stakeholders in reimagining Denver metro's most promising future—where every community has access to high quality education, health care, and human services.
Like many American cities, the region is grappling with a number of urgent social issues including wages that have not kept pace with rising housing costs, shortages of health care providers, and inexperienced teachers who are disproportionately concentrated in schools that primarily serve students of color and English learners.
Historically, cross-sector collaboration has been an effective method for addressing such complex challenges. When local grantmakers, intermediaries, and governments apply their different perspectives and resources, they often can address social issues more effectively. However, because these challenges are impacting certain communities more than others, it is clear that cross-sector collaboration is only part of the solution. We also need an equity lens to address the practices and policies that are driving racial and economic disparities, but how do we get there? And how can data help?
In November, The Denver Foundation and Mathematica brought area leaders to the Colorado Health Foundation to examine these very questions together. After all, given its rich history in evidence-based policymaking, the region is in a great position to turn recent advances in data and evidence into meaningful progress for residents.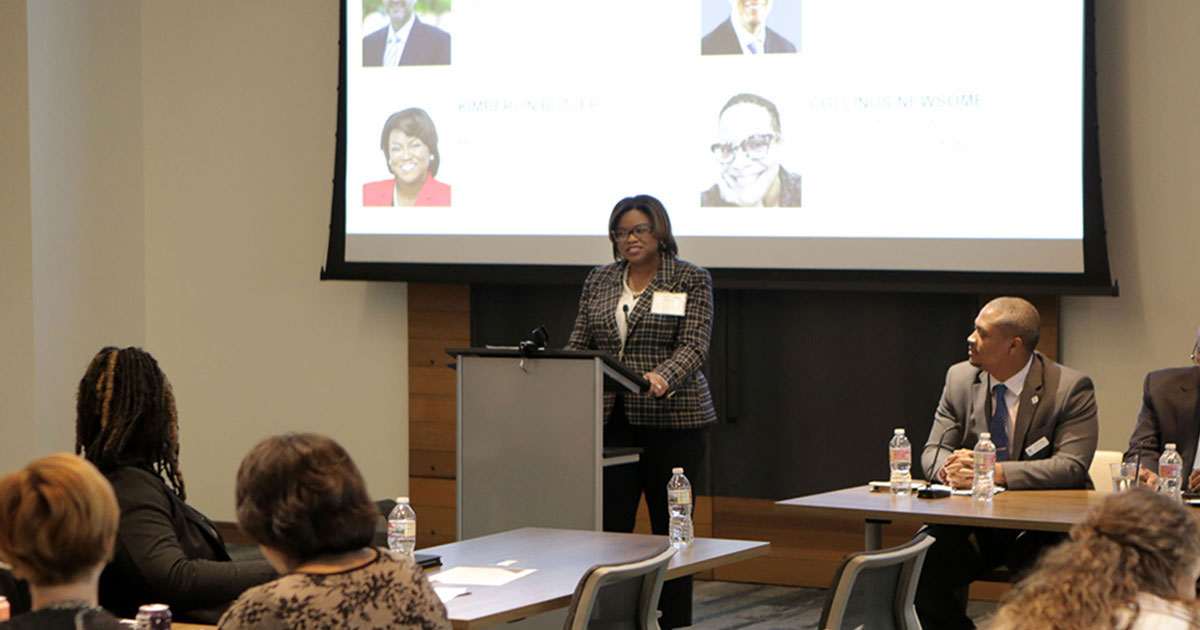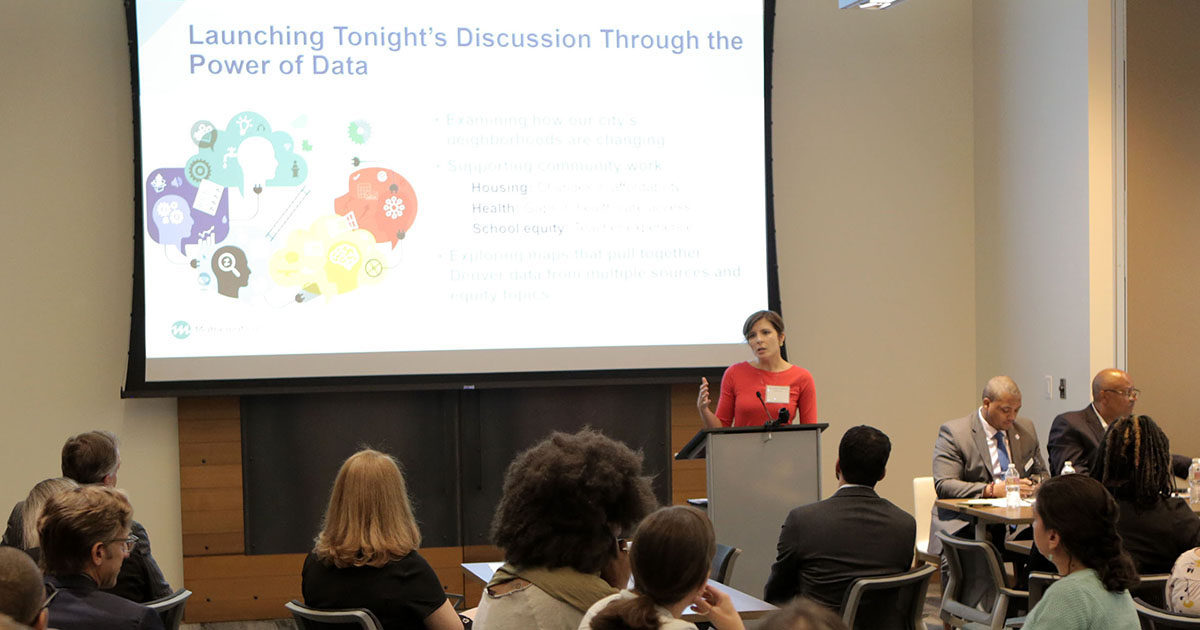 Paul Decker, the president of Mathematica, and Javier Alberto Soto, the president of the Denver Foundation, joined together to start this important conversation. As Paul shared, it is critical for insight partners like Mathematica to understand the specific needs of frontline organizations and the residents they serve, so we are able to gather the kinds of evidence that would be most beneficial to communities.
Throughout the process of planning the event, we were constantly reminded that cross-sector collaboration is critical to addressing inequities because everyone needs to see the interconnectedness of disparities to develop solutions. To me, that brought to life the words of Dr. Martin Luther King, Jr. when he said, "We are all caught in an inescapable network of mutuality, tied into a single garment of destiny. Whatever affects one directly, affects all indirectly." I shared that quote as part of my remarks and also challenged the participants—including panelists from The Denver Foundation, Colorado Health Foundation, Denver Public Schools, City and County of Denver, Montbello Organizing Committee, RISE Colorado, The Equity Project, and Gary Community Investments—to think critically about how they can use data to create the future they envision, and their perspective on how to best leverage cross-sector collaboration and data-driven practices to address inequities.
The incredible collection of participants offered powerful insights about how foundations, policy experts, and community leaders can better leverage equity-focused, data-driven cross-sector collaboration. Their responses reflected their unique challenges and experiences serving the Denver community.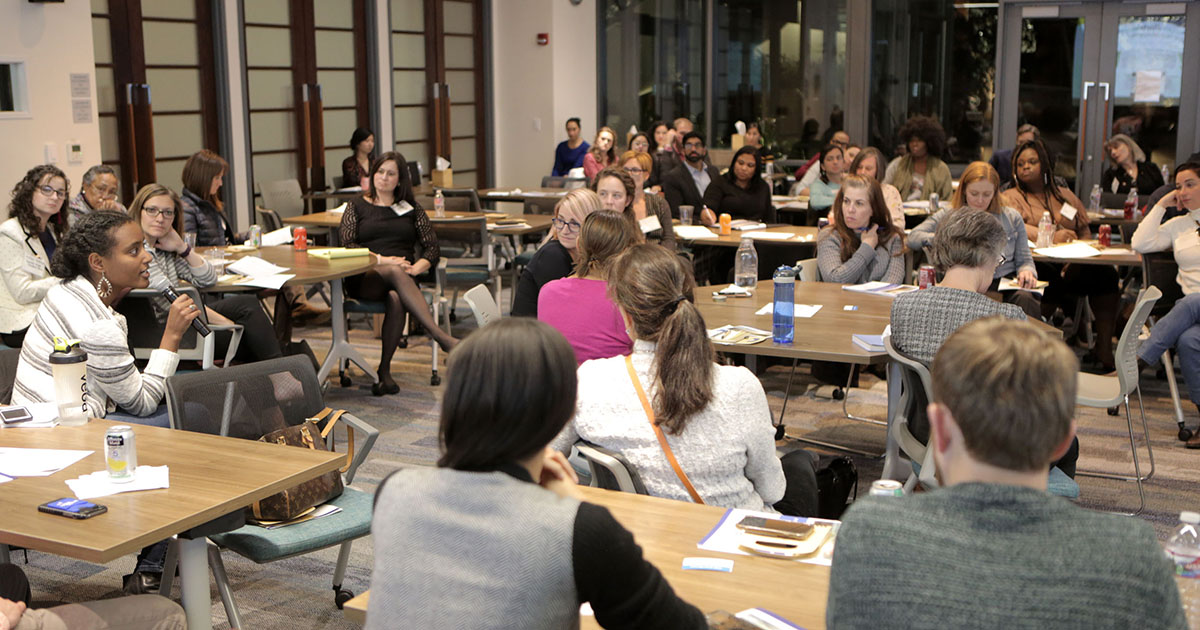 Veronica Palmer, president and CEO of RISE Colorado, for example, discussed the challenges of being a woman of color leading a nonprofit, citing funding challenges that hinder her organization's ability to demonstrate long-term impact.
"We need to think about how to better support entrepreneurs who are people of color because they often face more scrutiny and face more structural inequality," Palmer said. "One way foundations could better support entrepreneurs of color is by providing multiyear funding, so they can demonstrate they have staying power."
Palmer also discussed how the public, not just researchers and policy experts, need data. "We need to get powerful data points into the hands of families and communities and recognize they must be the architects, not the objects, of policy," she said.
Many participants also discussed the importance of building trust with the communities they serve. "Progress moves at the speed of trust, and trust moves at the speed of relationship," said Khadija Haynes, organizer of the Montbello Organizing Committee. To make progress with vulnerable communities, "trust must be built by talking with people in small groups, not at them in town halls," she said.
To be an effective champion for racial equity, said Nita Mosby Tyler, chief catalyst of the Equity Project, foundations should look at how their own hiring practices and opportunities for career advancement do or do not support people of color.
"Philanthropy's role in advancing racial equity does not work unless foundations apply it internally," she said.
Philanthropy can also elevate the importance of in-depth interviews with people affected by policies and programs, according to Patrick Horvath, director of economic opportunity at The Denver Foundation. "Data should include qualitative data and capture people's experiences of how they perceive change in their own lives," he said.
As we enter a new decade and think about the future we want to create, I hope the advice shared from the convening can inspire all of us to think about how we can work across sectors and use evidence to serve others.
As Collinus Newsome, the director of education at The Denver Foundation, stated in her closing remarks, "we need to make data more accessible, work on listening to the communities we serve, and get comfortable with talking about racial equity."
Based on the initial feedback, what was perhaps most powerful about the event was that it not only brought such a diverse array of leaders together, but encouraged them to think differently about silos that might exist and find new ways to interact outside of their traditional partnerships to address the more fundamental challenges faced by the entire community. At Mathematica, we're proud to help ground conversations like this in the data and evidence that can make a difference. When we work collaboratively, apply an equity lens, authentically engage with communities, and allow data to show us the way, it seems we are on the path to creating our most promising future.