In honor of Transgender Awareness Week, Mathematica is featuring recent internal efforts to improve the experience of trans and nonbinary employees at Mathematica. This week is a time for transgender people and their allies to highlight the community, share their stories, talk about the issues trans people face every day, and take action. The week culminates with the Transgender Day of Remembrance on November 20, which recognizes those who have died in the past year because of anti-trans violence.
Trans inclusion is essential to establishing a safe and welcoming work environment for everyone. Mathematica empowers employees to identify issues they are passionate about and take an evidence-based approach to improving them. About two years ago, a group of us at Mathematica recognized the need to adapt our workplace and practices to improve equity and inclusion for trans individuals, and we established a Trans-Inclusion Committee to advance these efforts. Our committee, and Mathematica's support of it, has been integral to recent successes in improving trans inclusion.
A recent initiative by committee members highlights this concerted effort toward trans inclusion. This summer, the committee identified exclusionary language on Mathematica's internal website, referred to as the intranet. The intranet is a key resource for employees to learn about benefits, upcoming events, and ongoing project work, and it serves as a repository of knowledge on project management, proposal writing, and performance reviews.
An important tenet of trans inclusion is to avoid erasing nonbinary people and their experiences. Nonbinary people are those who identify partially or entirely outside of the gender categories of man and woman. This erasure occurs when a writer assumes that every individual falls within the gender binary and uses terminology such as "he or she" and "ladies and gentlemen." Using widely recognized gender-neutral language—such as "they" instead of "he or she" or "parents" instead of "mothers and fathers"—is necessary to ensure that we don't systematically exclude nonbinary individuals.
To move forward in making our internal writing more inclusive, we partnered with Mathematica's Communications team and substituted trans-inclusive language in place of the exclusionary language on the intranet, making it more representative and welcoming for all staff. Our committee approached the language review the way we would approach a Mathematica project, employing the same rigorous methodology we use for clients. We first conducted a scan of all active intranet pages to identify the extent to which gendered language was used and then reviewed the content to see if it was exclusionary or not. We defined exclusionary language as language that assumed the genders of a large or ever-changing group, such as Mathematica staff or our board of directors. In our scan of the intranet, we encountered non-exclusionary language that uses similar keywords, such as when someone was discussing their wife. "Wife" refers to a single individual whose gender and pronouns can be known rather than assumed, making the term non-exclusionary in this instance. After we identified and catalogued the more than 100 instances of exclusionary language, we suggested ways the text could be edited to ensure inclusivity.
We prioritized frequently visited pages and worked with Mathematica's senior leaders, the Communications team, and the Information Technology team to update the pages. In working with these stakeholders, we also sought to impart the importance of this effort. Although this undertaking doesn't address all the work necessary to increase trans inclusion in the workplace, using trans-inclusive language is an important signal and a fundamental way to reduce the pervasive erasure of trans existence in everyday life.
Mathematica and the Trans-Inclusion Committee have made other strides toward creating a safe place for trans and nonbinary employees. We're working toward an improved company culture related to pronouns, research practices, and appropriate physical facilities. For example, Mathematica is encouraging the use of pronouns in staff bios, email signatures, and verbal introductions. Using the correct pronouns for others ensures they aren't being misgendered and is essential to reducing harm to trans and nonbinary individuals.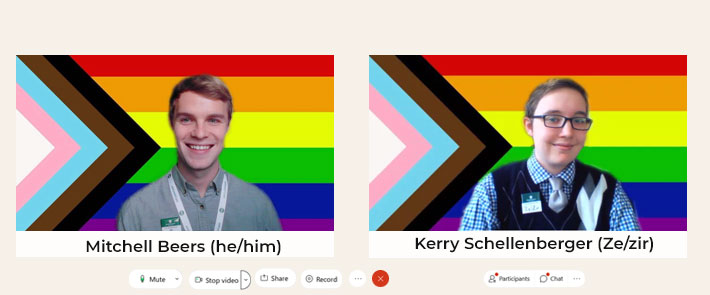 The Trans-Inclusion Committee also hosted a company-wide event focused on trans inclusion in survey design and research practices. The committee educated staff on the ways trans and nonbinary people have been historically undercounted and misrepresented in surveys and other forms of research, and shared best practices for implementing more inclusive measures. Adopting methods that accurately capture the experiences of trans and nonbinary people is vital for ensuring that Mathematica's work is unbiased and does not exclude groups with unique experiences and specific barriers.
In addition, Mathematica is exploring how to make its facilities more inclusive. Mathematica is working with building owners to identify opportunities where gender-neutral bathrooms can be made available to ensure staff, guests, and clients of all gender identities are able to use our facilities. One of Mathematica's offices has already converted some of its bathrooms to be gender neutral. In true researcher fashion, this is a pilot project, from which we can draw lessons to apply to our other offices around the country. Because the best way to progress is together, the pilot was designed with an intersectional approach involving input from the Trans-Inclusion Committee and Mathematica's employee resource groups representing parents and caregivers, staff with disabilities, and LGBTQ staff.
Much work remains to achieve the imperative goal of trans inclusion in the workplace and beyond. Mathematica and the Trans-Inclusion Committee are committed to doing this work to improve public well-being for everyone.