Chronic absenteeism, usually defined as missing 10 percent or more of the days in a school year, is a widespread challenge that can lead to long-term problems. Data from the Office of Civil Rights suggest that 51 percent of Pennsylvania schools have 10 percent or more of their students chronically absent. Students who are chronically absent miss out on learning and are more prone to dropping out than their peers who attend school regularly.
The School Support and Improvement Research Alliance at the Mid-Atlantic Regional Educational Laboratory (REL MA) recently held a workshop, developed in collaboration with the Pennsylvania Department of Education (PDE), to provide information to educators about chronic absenteeism: what it is, how to measure it, and what research says about addressing it. The workshop met an important informational need in Pennsylvania, as the state will use chronic absenteeism as a measure of school quality and student success as a part of its approved Every Student Succeeds Act (ESSA) Consolidated State Plan.
The workshop brought together researchers and practitioners from all levels, including schools, districts, intermediate units,¹ and PDE to share research, experiences, and practices geared toward reducing chronic absenteeism. Ms. Cecelia Leong, associate director for programs from Attendance Works, shared research that illustrates that chronic absenteeism has long-term negative consequences for students:
The University of Chicago Consortium on Chicago School Research found that students who have been chronically absent in pre-Kindergarten, 1st, and 2nd grades were significantly more likely to need remediation for low literacy skills compared with those who were not chronically absent during those grades.
A Rhode Island Data Hub analysis found that chronically absent high school students were more likely to drop out compared with those who were not chronically absent.
A Utah study found that chronically absent students were 5.5 times more likely to drop out in a future year than students with typical attendance rates.
Ms. Leong shared that the first step to addressing chronic absenteeism is to understand why students are chronically absent and why some schools have large numbers of chronically absent students. Students can be chronically absent for a number of reasons. When educators have identified the challenges to attendance, Ms. Leong suggested the following a five-pronged strategy to address the identified challenges.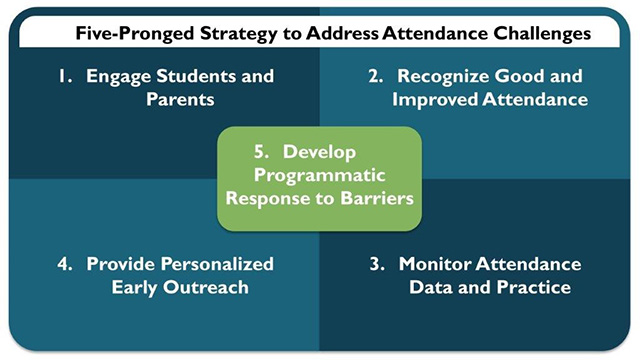 Each of the five strategies is tiered to address students with differing needs. Tier 1 activities are for all students, schoolwide, to establish a culture of making good attendance a priority. These activities could include, for example, making all teaching engaging and using restorative rather than punitive approaches to discipline. Tier 2 interventions target chronically absent students—those who have missed 10 percent or more days of school. Tier 2 interventions address barriers and make connections that motivate attendance. Finally, Tier 3 interventions focus on students who missed 20 percent or more of school days in the prior or current year. These are the most intensive interventions, often coordinated from multiple agencies in a school district or community.
Mr. Nima Tahai, director of educator leadership at Go Public Schools and former principal of Garfield Elementary in Oakland, California, shared his experiences and practices in reducing chronic absenteeism. When he became principal at Garfield, close to 10 percent of all students, and more than 30 percent of African American students, were chronically absent at the elementary school and the school culture was negative. After five years, Garfield reduced the chronic absenteeism rate to 5 percent for all students and 13 percent for African American students. Mr. Tahai reflected on what it takes to turn around attendance and emphasized the need for the school leader to be a champion for addressing attendance. The school leader has to develop a culture of care and compassion among all adults in the building, build an attendance team, monitor data frequently, and use resources creatively.
Mr. Tahai explained the need to inform actions with care and compassion when trying to get chronically absent students to school. He believes that care, compassion, and data—rather than a punitive approach—can better address the underlying causes of chronic absenteeism. Such an approach can lead to using the school's finances creatively to offer incentives or prizes to promote attendance; it can also mean that a school can help connect families with resources or community supports to remove barriers to attendance. Although many strategies focused on the school level, staff at district and state levels can take actions to promote attendance. For example, the district can provide timely attendance data or promote partnerships with social service or community service agencies to support the schools' efforts.
REL MA will offer additional webinars on chronic absenteeism and other high-leverage topics throughout the year. You can sign up for notifications from REL MA on our website.
Cross-posted from the REL Mid-Atlantic website.
¹ According to the Pennsylvania Association of Intermediate Units, "intermediate units are entrepreneurial, highly skilled, technology-rich, and agile providers of cost-effective, instructional, and operational services to school districts, charter schools, and over 2,400 non-public and private schools. Additionally, intermediate units are direct providers of quality instruction to over 50,000 Pennsylvania students (https://www.paiu.org/ius.php)."