Five Highlights from APPAM's Fall Research Conference
Last month, the Association for Public Policy Analysis and Management (APPAM) hosted its fall research conference in Washington, DC. It was my first time at the conference, and based on some informal data collection at the Mathematica booth, I was in good company. Over the three-day event, experts from Mathematica fanned out to present research findings in breakout sessions, debate issues as panelists, and engage the APPAM community in an informal dialogue about new ideas in public policy research at the Innovation Lounge. I compiled some of the weekend highlights here.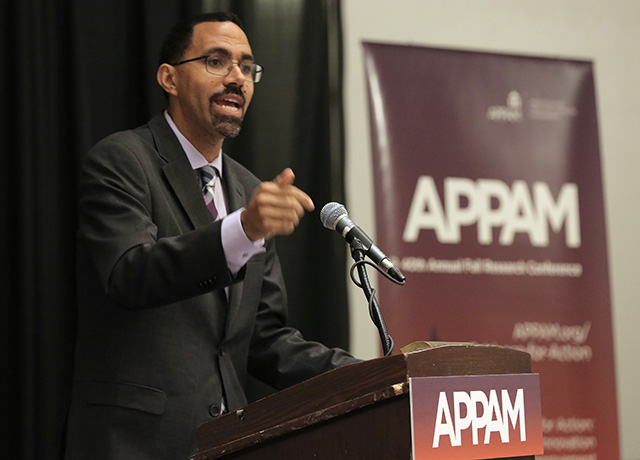 U.S. Education Secretary John B. King was the keynote speaker at the luncheon, a part of APPAM's Equity and Inclusion Fellowship program. The program encourages students typically underrepresented in the policy research community to participate in APPAM and its activities by covering conference expenses related to travel and participation. (Mathematica was a cosponsor of the fellowship and the luncheon.) King is a former social studies teacher and middle school principal who became the first African American and Puerto Rican to serve as state education commissioner for New York. In 2015, he joined the Obama administration as the acting deputy secretary of education. About a year later, he was confirmed as the U.S. education secretary. During his speech at the APPAM luncheon, King joked that he was the first U.S. education secretary to be kicked out of high school. Both of King's parents died by the time he was 12, and he credits his teachers in the New York City public school system for providing the support and guidance that enabled him to become the U.S. education secretary.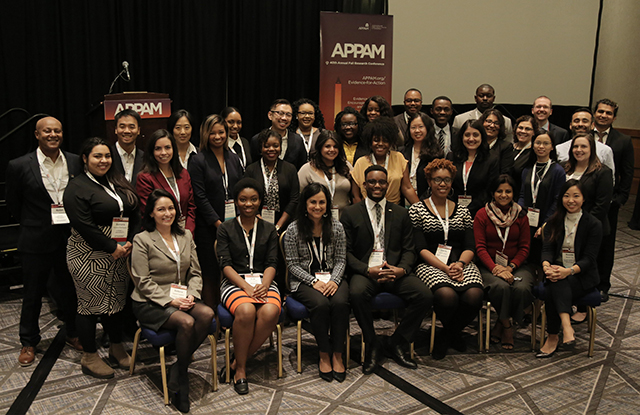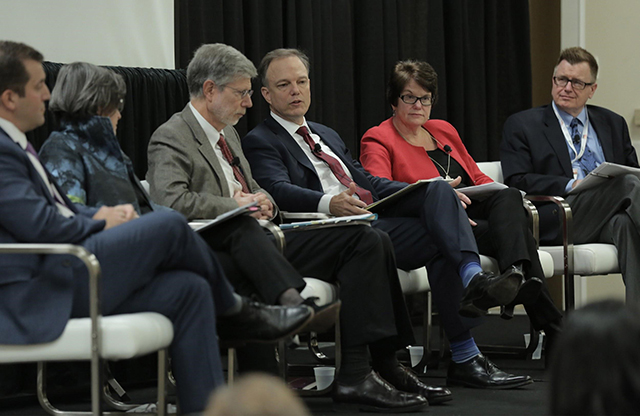 Mathematica President and CEO Paul Decker joined leaders from the Urban Institute, Abt Associates, IMPAQ International, and MDRC in a panel to discuss how the policy research field is evolving. Several panelists talked about their organizations having to focus more on long-term partnerships with the local decision makers or changemakers and said that technology is disrupting the industry as well. The field is entering a data analytics era, Decker said. In the past, data were scarce and static, which meant research tended to be expensive and slow. "What's changed? Data are everywhere now. Easily accessible. Cheap to gather," he said. Firms also have technology that can exploit large volumes of data like never before. "The data flow every day, they're dynamic, so we're no longer creating a static database that gets mined to death," he added. "In fact, most data may change every day and that adds to our ability to leverage those data to draw out insights."
"We wanted to increase the opportunities for people to be at the conference but engaging with others. So we created the Innovation Lounge, where people could post ideas they are working on and invite people to come in and chat about it."

—Matt Stagner, president-elect of APPAM and a senior vice president at Mathematica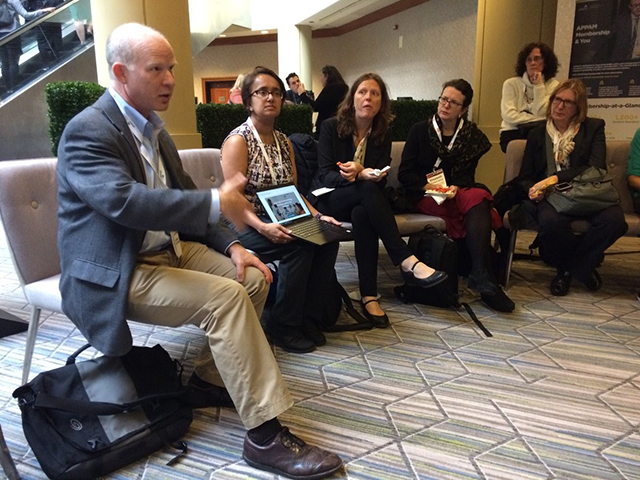 The Innovation Lounge featured more than 20 informal conversations between researchers and conference attendees on a wide range of topics, from pay-for-success contracting to early childhood education. The lounge sessions placed a premium on audience interaction and banned the use of formal PowerPoint presentations.
Mathematica's Annalisa Mastri

joined Patricia Blumenauer from Philadelphia Works, Inc. and
Stephen Bell from Westat in leading a conversation about breaking down silos in human
services and workforce development. (Photos: Rich Clement)
A graphic visualization asks when attendees first fell for APPAM.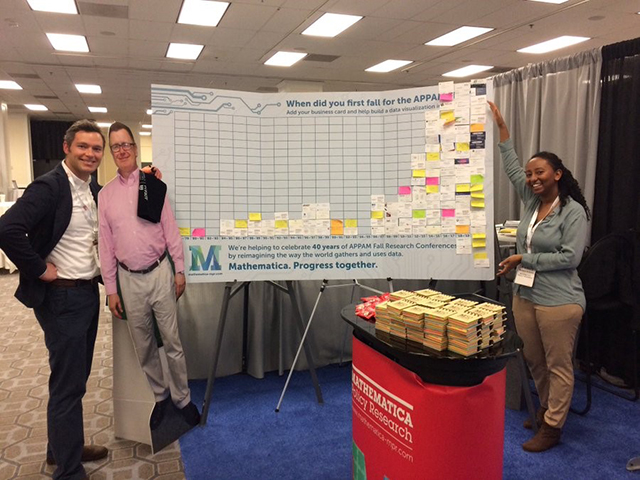 Both APPAM and Mathematica celebrated big birthdays in 2018: APPAM's 40th and Mathematica's 50th. To engage conference attendees, we invited them to pin their business card on the year they first attended an APPAM conference. We haven't rigorously analyzed the results, but we suspect some self-selection bias might be present: the vast majority of people clustered around the most recent years.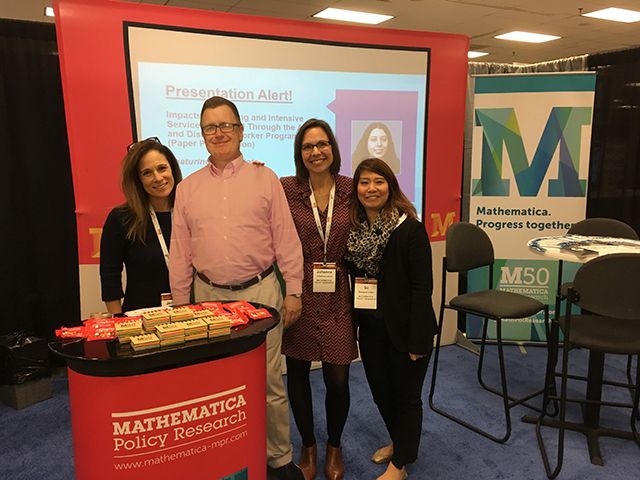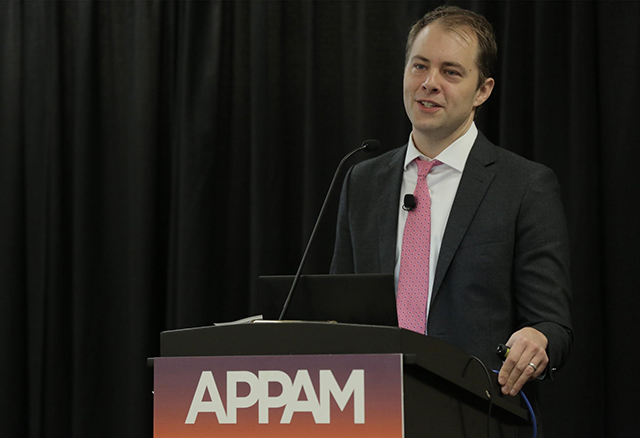 Harvard University Professor David J. Deming's talk (called "What Does Education Do?") stems from his research in the areas of education, employment training, and job skills. He is the 19th winner of the Kershaw Award, established to recognize young professionals under the age of 40 who have made distinguished contributions to the field of public policy. (David N. Kershaw, for whom the award is named, was Mathematica's first president.) In his talk, Deming argued that postsecondary education has played an important role in rising economic inequality over the last 40 years. "If we want to reduce economic inequality in the US, we must find a way to equalize access to postsecondary resources," he writes. Beyond expanding college access, he said, we must also deepen our understanding of how college builds skills and why it might be creating inequality in skills.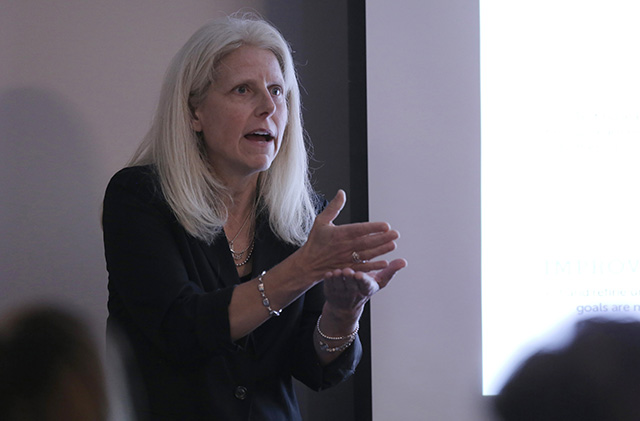 Michelle Derr was among dozens of Mathematica experts who, in all, presented more than 30 papers at the conference. She described an evidence-based model for goal setting in public agencies, both for the caseworkers and their clients. Other Mathematica paper topics included the impacts of pay-for-performance bonuses on students and teachers, the impacts of intensive employment services and training on adult dislocated workers and the estimated causal effect of incarceration on the educational outcomes of youth. You can find a full list of presentations by Mathematica staff here.