Education Topics
Postsecondary Education
Mathematica is a leader in designing and conducting postsecondary education studies and in working with postsecondary stakeholders to generate and use evidence to inform decision making.
Our work includes evaluations of interventions designed to increase persistence and completion of college, studies of program and institutions designed to increase minority student enrollment and success in higher education, and data collection and analysis on important trends in postsecondary education including in the science, technology, engineering, and math fields (STEM).
Rigorous and Relevant Evaluations: We have evaluated a variety of postsecondary programs designed to increase credential completion and career success. We have worked closely with clients to develop research designs that use a variety of research methods to ensure high quality data and actionable analysis.
Data Analytics: We have analyzed data to examine the impact of programs designed to improve racial and ethnic minority students' success in higher education, especially in science, technology, engineering, and math fields (STEM).
Program and Evaluation TA: We have provided technical assistance to help colleges develop, implement, and assess a wide variety of college programs, including such diverse topics as workforce development, financial literacy, and assessment of non-academic competencies.
Evidence & Insights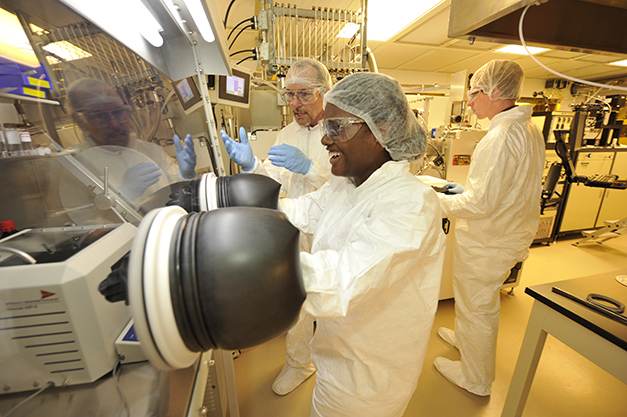 Project
Research Experiences for Undergraduates: Developing an Evaluation Framework and Pilot-Testing a Longitudinal Tracking System
Mathematica is designing an evaluation framework and pilot data system that would enhance the National Science Foundation's ability to monitor the Research Experiences for Undergraduates program and to conduct evaluations with increasing level of rigor in the future.
Learn more
Solutions
Progress is best made together.
Partner with us at the intersection of data science, social science, and technology to progress from inquiry to insight to impact. Our evidence-informed solutions empower you to see clearly and act quickly.
Partners In Progress
Lindsay Fox
Senior Researcher
View Bio Page
Naihobe Gonzalez
Senior Researcher
View Bio Page
Margaret Sullivan
Senior Researcher
View Bio Page
See Clearly. Act Quickly.
Our experts can help you make smart, sustainable decisions. From local to global challenges in health, human services, and international development, we're here to improve public well-being and make progress together.
Explore Partnership