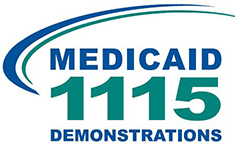 Mathematica's health experts recently helped develop new state implementation and monitoring tools, as well as guidance on evaluation methods, for section 1115 Medicaid demonstrations. Creating these tools is part of the national evaluation of section 1115 Medicaid demonstrations under contract to the Centers for Medicare & Medicaid Services (CMS). The national evaluation supports CMS's efforts to increase the rigor of state-based monitoring and evaluation and generate evidence from a cross-state evaluation to inform decision making on Medicaid program improvements and future demonstration investments.
"These new resources will help states and the research community assess the performance of the demonstrations," said Maggie Colby, director of health program improvement at Mathematica. "The insights generated by these tools will contribute to a larger body of knowledge about how to best provide health care to vulnerable individuals and families through the Medicaid program."
For each 1115 demonstration that CMS approves, the state responsible for the demonstration must provide CMS with regular reporting on key monitoring metrics. The state must also submit an evaluation design to CMS following demonstration approval and then evaluate that demonstration by partnering with an independent evaluator. To support more consistent monitoring and rigorous evaluation of section 1115 demonstrations, CMS partnered with Mathematica to design monitoring and evaluation tools and guidance to support these activities.
The resources include the following:
Implementation plan templates. These templates provide a framework for the state to document its approach to implementing demonstrations that address substance use disorders and those that include community engagement—a new eligibility approach for certain working-age adults in some states. They also help the state determine what information to report to CMS in the quarterly and annual monitoring reports.
Monitoring report templates. The monitoring report templates provide the state with a framework for how to report information, including quantitative monitoring metrics, to CMS quarterly and annually.
Evaluation design guidance. The evaluation design guidance recommends hypotheses, evaluation questions, measures, data sources, and analytic approaches that states can use to develop rigorous evaluations of section 1115 demonstrations. This includes guidance for states pursuing community engagement demonstrations, premiums or beneficiary account payments, retroactive eligibility waivers, and non-eligibility periods as well as states with demonstrations designed to address substance use disorders.
Mathematica's health experts are pioneers in advanced health services research, clinical quality improvement and measurement, data quality, analytics, and emerging methodologies—an expertise paired with a strong understanding of health care policy and adoption of technological advancements. Leading with clarifying questions, our close, collaborative approach adapts to evolving policy contexts and moves beyond process to deliver solutions that aim to improve health outcomes, quality, affordability, community well-being, and value.