Mathematica Experts Featured at RECS 2018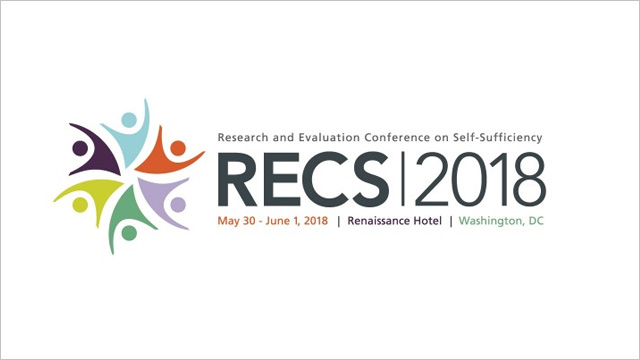 Several experts from Mathematica Policy Research will present at the 2018 Research and Evaluation Conference on Self-Sufficiency (RECS), which takes place May 30 to June 1 in Washington, DC. Organized by the Administration for Children and Families within the U.S. Department of Health and Human Services, RECS will feature presentations that focus on applying research and evaluation to practical decision making and policy development.
Supporting the conference's theme of Creating Pathways to Work and Well-Being, Mathematica's experts will participate in multiple presentations and discussions:
A Discussion on Careers in Research Related to Poverty, Family Self Sufficiency, and Social Welfare

with Reginald Covington [May 30 at 12:30 p.m. in Renaissance A]

Coaching in Employment Programs: Reflections from Three Practitioners

with Sheena McConnell [May 31 at 1:00 p.m. in Renaissance West A]

Parents and Children Together (PACT): Findings from an Experimental Evaluation of Six Healthy Marriage and Responsible Fatherhood Programs (Plenary)

with Sarah Avellar [June 1 at 10:15 a.m. in the Grand Ballroom]

Learn, Innovate, Improve (LI²): A New Approach to Using Evidence for Continuous Program Improvement

with Michelle Derr [June 1 at 11:45 a.m. in Grand North]
Click here to view a full list of Mathematica's presentations.
Share your thoughts about RECS using the conference hashtag #RECS2018 and be sure to follow us on Twitter, Instagram, and Facebook.