Three new practice briefs have been released that provide new knowledge that can empower centers for independent living (CILs), and similar organizations, to increase and improve services for traditionally underserved youth with disabilities who are out of school and from racial and ethnic minority backgrounds.
Youth and young adults with disabilities face individual and societal obstacles to employment and self-sufficiency, and youth with disabilities from minority backgrounds experience even poorer outcomes. The National Institute for Disability, Independent Living, and Rehabilitation Research and the Administration for Community Living's Minority Youth and Centers for Independent Living (MY-CIL) project aims to help organizations better reach these youth and provide effective services that improve independent living skills and education, training, and employment opportunities.
MY-CIL takes a grassroots, stakeholder-informed approach to both learning from the experiences of CILs and increasing their capacity to improve transition outcomes for out-of-school youth from racial and ethnic minority backgrounds. CILs are well positioned as community-based organizations to promote the principles of independent living because they are run by people with disabilities for people with disabilities. These centers play an important role in disability communities, but less is known about how they support diverse youth and young adult consumers or which of their services work well.
The MY-CIL project is a collaborative effort led by Hunter College along with Mathematica; the Center for Independence of the Disabled, New York; and Independent Living Research Utilization. These organizations are gathering input from CIL staff, youth consumers, and other stakeholders; conducting research; testing evidence-based practices; and facilitating learning between CILs.
The first brief, Improving Service Delivery to Out-Of-School Youth from Minority Backgrounds: Case Study Findings from the Southern California Resource Services for Independent Living, highlights this CIL's approach to supporting youth in the greater Los Angeles area. An important part of Southern California Resource Services for Independent Living's approach is to ensure intersectionality is at the core of its service delivery. This includes hiring staff that reflects the diversity of the community they serve and providing trainings and other opportunities that help youth explore all aspects of their identities.
Check out a recording of a discussion with Southern California Resource Services for Independent Living's leaders and the youth it serves. The discussion generated many innovative ideas on reaching youth in the community, developing programs guided by youth input, and forming partnerships and interagency collaborations to provide paths to employment.
The second brief, To What Extent Are CILs Serving Out-of-School Youth from Minority Backgrounds? outlines selected findings from a survey of 218 federally funded CILs. Key findings discussed in this brief include the following:
Although all CILs reported serving out-of-school youth, about 65 percent of the centers reported that out-of-school youth made up less than 10 percent of their consumers.
Out-of-school youth consumers came from a range of racial, ethnic, and language backgrounds, with the composition varying substantially across CILs.
In all, 21 percent of respondents reported that most of their out-of-school youth consumers were from racial or ethnic minority backgrounds, and 35 percent of respondents reported that less than 5 percent of their out-of-school youth consumers were from racial or ethnic minority backgrounds.
A small percentage of CIL consumers identified as nonbinary or other gender. Centers also served fewer youth that identified as female.
These results reflect in part the diversity of CILs and the communities they serve, but a soon-to-be-released analysis from MY-CIL will help centers compare whether their community is well represented among their consumers.
The third brief, Working with Out-of-School Youth from Minority Backgrounds: What CILs Offer and What They Value, reveals that CILs believe that five of the top six critical services for independent living success were specific to independent living and that other services specific to social, employment, counseling, and education were less critical. These findings reflect the historic mission of CILs and their person-centered philosophy as well as the universal benefits of self-advocacy, self-esteem, and goal setting. Though many CILs started providing employment- and education-related services in response to the Workforce Innovation and Opportunity Act of 2014, demand for these services is expected to grow. CILs should consider how they can offer these services or build partnerships with other organizations that already do.
Services most frequently deemed critical for independent living success, among CILs that provided the service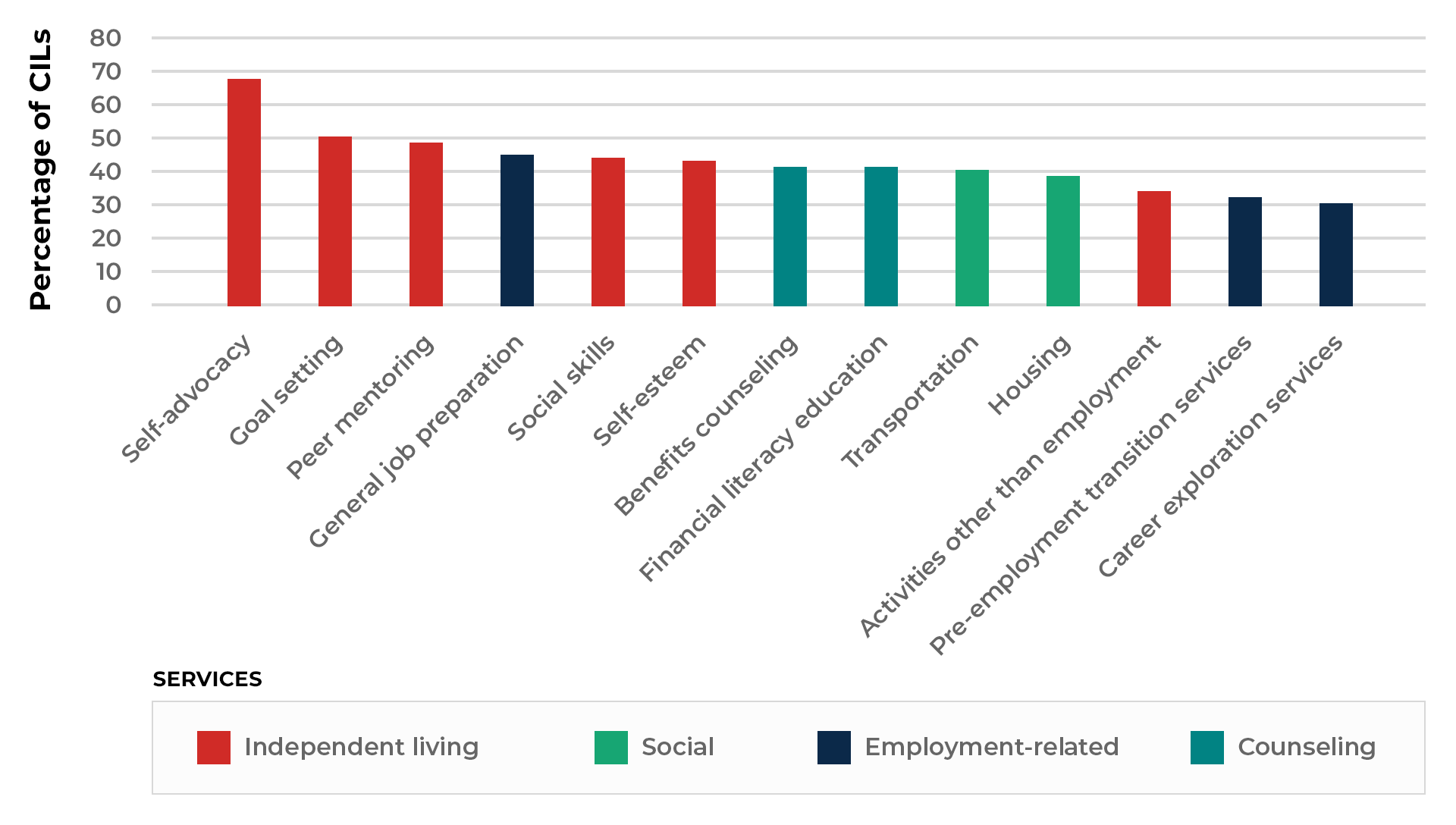 Check out more about the MY-CIL project and resources from Mathematica here.