Sharing Evidence and Insights at the National Association for Welfare Research and Statistics 2019 Workshop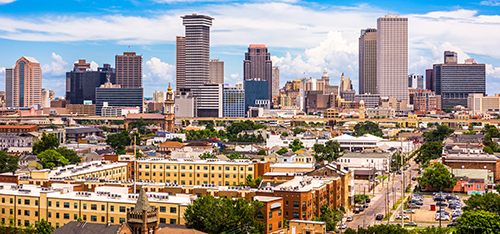 ---
More than a dozen of Mathematica's human services, employment, and family support experts will present at the National Association for Welfare Research and Statistics (NAWRS) Workshop from Sunday, July 28, to Wednesday, July 31, in New Orleans, Louisiana. Under the workshop's theme "Collaboration Across Lines to Build Up Lives," our experts join attendees from across the country to discuss evidence-informed approaches to improving human services programs, strengthening self-sufficiency, and reducing barriers to employment.
Working with clients such as the Department of Health and Human Services and the Social Security Administration, Mathematica is applying evidence-based technical assistance, data-driven methods, and culturally informed approaches to improve programs in employment coaching, child support, and systematic evidence reviews, among others.
Agenda highlights include the following:
Dana Rotz and Annalisa Mastri will join other members of the Pathways to Work Evidence Clearinghouse team for a panel discussion titled "Distilling Research to Inform Policy and Practice." During this session, panelists will obtain direct feedback from state and local Temporary Assistance for Needy Families (TANF) administrators, researchers, and other NAWRS attendees. Unable to attend the NAWRS conference in person? This session will be livestreamed on Mathematica's Facebook page. Like Mathematica's Facebook page and click here to access the livestream starting at 10:30 a.m. EDT on July 29.
Pamela Holcomb will summarize findings from an examination of state-option child support cooperation requirements, specifically related to parents' eligibility for the Supplemental Nutrition Assistance Program and child care subsidies funded under the Child Care Development Fund.
Michelle Derr and others will discuss the implementation and evaluation of employment coaching and ways to strengthen service delivery within human services programs like TANF.
During a moderated session, Rebekah Selekman will join experts from Maryland and Wisconsin to discuss lessons learned from the Promoting the Readiness of Minors in Supplemental Security Income (PROMISE) project. PROMISE sought to address many of the barriers to economic independence faced by youth Supplemental Security Income recipients and their families.
A full agenda of our activites is available here.
Visit Mathematica's booth to learn more about our human services evidence and experts. For more updates on our NAWRS activities and presentations, follow us on Twitter, LinkedIn, and Facebook and search using #NAWRS19.