International Research Topics
Health and Nutrition
Mathematica helps its partners to develop, measure, evaluate, and scale solutions to address health problems and strengthen health systems in low- and middle-income countries.
Mathematica works closely with its partners to identify promising strategies and interventions, measure the performance of complex initiatives, and evaluate the effectiveness of specific solution levers. Our goal is to generate evidence and learning that will guide decision-making and advance the field—amplifying the positive impact of our partners' efforts on health and well-being across the globe.
Our international health work spans a range of issue areas, including reproductive health, maternal and child health, nutrition, health system strengthening, infectious diseases, and community health. Our project teams leverage our full suite of capabilities, and expansive global partner networks, to respond to the diverse information and learning needs of our clients. Using tailored approaches and tools, we bring data, evidence, and insights to program design, execution, and refinement processes, and help our partners and the broader field advance evidence-based solutions to the world's toughest health challenges.
Evidence & Insights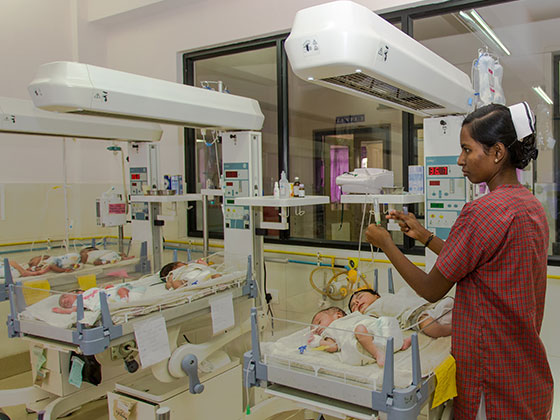 Project
Independent Assessor for Maternal & Neonatal Health Impact Bond in India
Several organizations—including Merck for Mothers, and USAID,—have partnered to deploy the world's first health development impact bond, the Utkrisht Impact Bond. Mathematica will contribute to this work as an independent assessor to verify the facilities' adherence to different requirements.
Learn more
Services & Products
Progress is best made together.
We believe in close partnership - whether you're a small non-profit or a federal government agency, we stick with you to help you see clearly and act quickly.
Partners in Progress
Anu Rangarajan
Senior Vice President; Managing Director of International Research
View Bio Page
Kimberly Smith
Associate Director
View Bio Page
Audrey-Marie Moore
Senior Researcher
View Bio Page
See Clearly. Act Quickly.
We can help you shine a spotlight through the dark. Get in touch to learn more about how Mathematica could help advance your mission.
Explore Partnership