Projects
Improving Outcomes for Youth Involved in the Juvenile Justice System
2014-2016
Prepared For
The Annie E Casey Foundation
The excessive use of incarceration in the United States has not been confined to the adult system—youth in this country are both detained and incarcerated at alarmingly high rates. This overuse of juvenile confinement comes at great cost to the futures of affected youth. It is also detrimental to families and the well-being of their communities.
The Local Deep End Initiative aims to decrease the number of youth offenders placed outside of their homes in institutions, boot camps, residential treatment centers, and group homes. The initiative focuses on local systems change and state-level policy reform. It uses a data-driven approach to policy change that relies on coalition building, community engagement, and strategic planning to narrow the pipeline to incarceration for youth while improving racial and gender equity and enhancing service provision.
Mathematica helped the foundation through a developmental evaluation involving process and outcome analyses in 12 communities. Ultimately the goal is to improve outcomes for youth, enhance public safety, and achieve greater racial, ethnic, and gender equality. Our rigorous mixed-methods approach involves qualitative and quantitative data collection and analysis, including:
In-person and follow-up telephone interviews with key stakeholders and system players
Web-based surveys with juvenile justice staff (probation officers and managers) to measure systems change over time
Analyses of outcomes employing administrative data
Interviews with community staff, foundation staff, and technical assistance providers on the foundation's and the communities' progress toward their goals and activities related to the initiative
Discussions with foundation staff about the evolution of the initiative and the technical assistance provided to communities
Mathematica is partnering with the Urban Institute on this study.
Evidence & Insights From This Project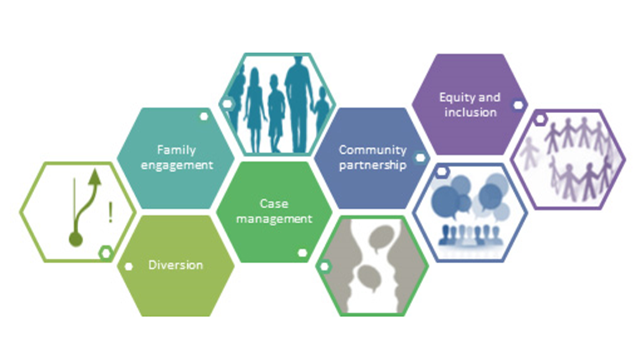 News
A Fresh Perspective Drives Positive Change in Juvenile and Criminal Justice Programs
Criminal and juvenile justice in the United States look vastly different than they did a decade ago. Years of declining crime rates, new bail and sentencing options, and evidence-based alternatives for juveniles and adults are just a few of the trends changing the face of the justice systems.
Learn More
Related Staff
Todd Honeycutt
Senior Researcher
View Bio Page