About Mathematica
Mathematica is the insight partner that illuminates the path to progress for public- and private-sector changemakers.
We apply expertise at the intersection of data, methods, policy, and practice, translating big questions into deep insights that weather the toughest tests. Driven by our mission to improve public well-being, we collaborate closely with our clients to improve programs, refine strategies, and enhance understanding.
Our more than 1,400 team members work across the country and around the globe, partnering with federal agencies, state and local governments, foundations, businesses, universities, and professional associations. Mathematica is reimagining the way the world gathers and uses data, surfacing evidence that guides decisions in areas ranging from health, education, child welfare, and family support to nutrition, employment, disability, criminal justice, climate change, and international development.
For over 50 years, we've been known as the pioneers behind research and policy advancements that have transformed the world. We conducted the first social policy experiment in the United States, the New Jersey Negative Income Tax Experiment, to test ways of encouraging people with low income to work. Today, we continue to dive into urgent social challenges right alongside our partners, determining how action leads to outcomes that help people, institutions, and communities affect real change in real time.
Led today by President and CEO Paul Decker, we understand that quality insights begin with diverse perspectives, so we foster a deep commitment to diversity, equity, and inclusion within our work and among our staff, and we thrive because of it. Our work is at its best when we include different perspectives and draw on diverse networks. As an employee-owned company, we create a shared vision that provides opportunities and incentives based on staff interest, spurs creativity and collaboration, and supports our long-term effectiveness and growth. Mathematica's Employee Stock Ownership Plan (ESOP) creates a unique ownership culture that allows us to focus on long-term growth and impact, not just quarterly results. Equally important, employee-ownership offers our teams flexibility to work on projects that best support and deliver on our mission of improving public well-being.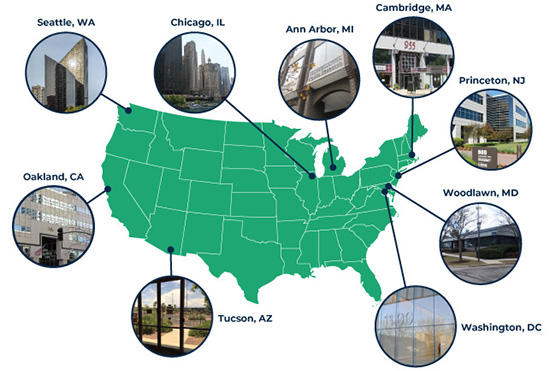 Mathematica's headquarters are in Princeton, New Jersey, and we also have offices in Ann Arbor, Michigan; Cambridge, Massachusetts; Chicago, Illinois; Oakland, California; Seattle, Washington; Tucson, Arizona; Washington, DC; and Woodlawn, Maryland. In 2018, we acquired EDI Group, an international research and data collection organization, expanding our capabilities and our presence in the United Kingdom and Africa.
Mathematica. Progress Together.
Accessible Version with Audio Description (AD) for Non-Visual Viewers