Research on chronically low-performing schools suggests that monitoring the implementation and progress of these schools' improvement efforts can help them use limited resources more effectively. REL Mid-Atlantic is partnering with the Office of Leadership Development and School Improvement (OLDSI) at the Maryland State Department of Education to co-develop a tool to track OLDSI's services to and engagement with schools that need Comprehensive Support and Improvement (CSI). This initiative, which also tracks engagement with districts, supports the state in taking the actions outlined in its plan to comply with the Every Student Succeeds Act (ESSA) and then correlating state supports with outcomes in the schools.
Under ESSA, states must articulate their approach to supporting CSI schools. These schools are generally the lowest-performing and face the most significant challenges in academic achievement, student growth, and other areas. In Maryland, CSI schools receive support from various offices, including OLDSI. OLDSI provides comprehensive services, such as leadership development workshops, ongoing school-based leadership coaching, and tools and resources housed on the state's Resource Hub, to help schools improve.
OLDSI and REL Mid-Atlantic are partnering to identify:
Research on leading indicators that can be used

to monitor

the progress of school improvement
Indicators and measures to track the state's implementation of support to schools for improving student outcomes
The point of developing a progress monitoring tool is not to collect new data, but to organize and use the data that are already available to track progress. The tool is based on the Four Domains of Rapid School Improvement, developed by the Center on School Turnaround: (1) turnaround leadership, (2) talent development, (3) instructional transformation, and (4) culture shift. The tool includes expected outcomes for each domain, along with action steps to help them. It also identifies milestones for each action step and suggests data to track evidence of progress.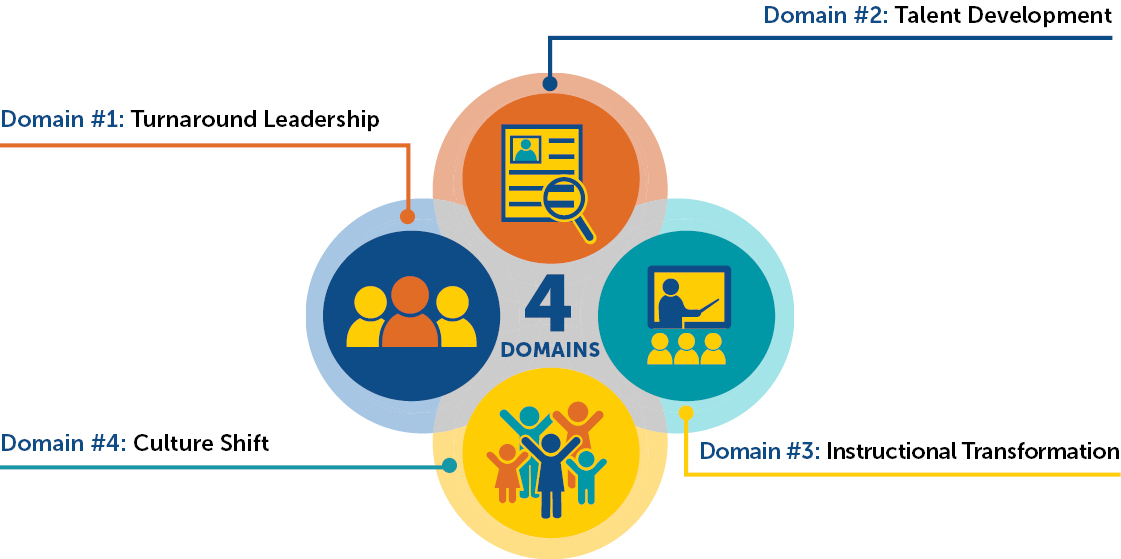 The following example presents an outcome for Domain 1: turnaround leadership. It includes related action steps, milestones, and data sources, at the state level.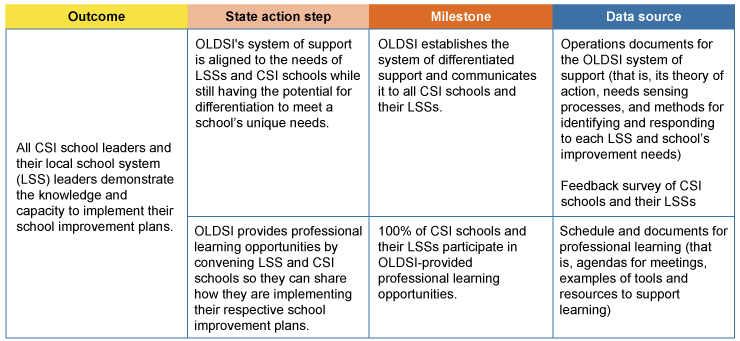 The project involves continued collaboration between the REL and OLDSI on a guidance document to support OLDSI's use of the tool. The document will have three parts: an overview of the progress monitoring tool and its features, suggestions for implementation, and a sample template from the tool, with more details and resources in the appendices.
The state will use the tool to create a comprehensive picture of the strategies in play to support school improvement and identify any need for mid-course corrections. For instance, reviewing the tool could highlight a gap in OLDSI support or reveal emerging needs that can be addressed. Keeping track of school and district participation in support activities could also inform outreach or revisions to OLDSI programming. In addition to identifying supports provided to schools, the state will map each activity or program to goals informed by the Four Domains for Rapid School Improvement framework. This process will enhance the transparency and focus of the support provided to CSI schools, and could also suggest ways to generalize the concept for other states to use.
Cross-posted from the REL Mid-Atlantic website.