By linking administrative data from child welfare, Medicaid, and other substance abuse and mental health services, a new study from Mathematica Policy Research and Casey Family Programs identifies types of high-level service use, or superutilization, among children in foster care. Researchers used a multidimensional approach to measuring superutilization, including measures of frequency, duration, intensity, and costs of services. Researchers also looked specifically at one of type of superutilization—high numbers of foster care placements—and identified the most important predictive factors at time of entry into foster care. The results of this analysis are key to understanding the factors that contribute to a high risk of placement instability—and to spotting them early enough to provide at-risk youth with the support and services needed to prevent a high number of placement moves, which has been shown to be detrimental to children's well-being.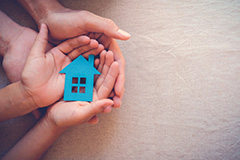 Children and families involved with child welfare often have an acute need for health, mental health, substance use treatment and other services to ensure a safe and nurturing environment. Although high service use might be appropriate for some families, better understanding superutilization of services could help service providers work with and support families who are not getting the right types of support at critical junctures.
Importantly, the results also demonstrate that it is possible to develop robust models capable of predicting high numbers of foster care placement moves—and possibly other types of superutilization—by leveraging data across systems that states might already have available but do not use in combination with one another.
The study used linked administrative data from child welfare and Medicaid from two sites: (1) the state of Tennessee and (2) Hillsborough, Pasco, and Pinellas counties in Florida. For Florida, administrative data on other substance abuse and mental health services were also included. The use of cross-system linked administrative data in both sites provided a rich set of data on service use for children in the child welfare system. The study samples include children, youth, and young adults ages birth to 24 years old who entered an out-of-home custody episode during the sample time frames.
Learn more about this project, Mathematica's work in data and predictive analytics, and other child welfare research by visiting our webpage.