Using Data to Improve Employment Outcomes for People with Disabilities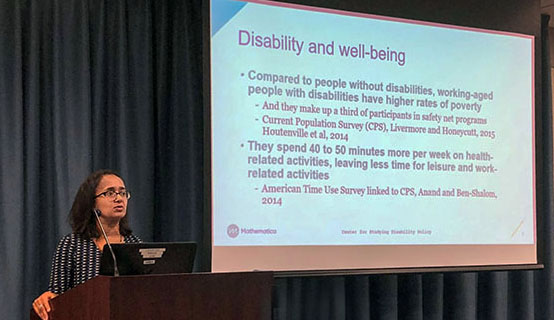 On October 29, Mathematica disability policy expert Purvi Sevak joined a panel of experts at the Bureau of Labor Statistics (BLS) to discuss how the agency is facilitating the collection and sharing of data that might help improve employment outcomes for people with disabilities. Compared with people without disabilities, people with disabilities experience higher rates of poverty and often have lower earnings than workers in similar occupations. Young adults with disabilities, in particular, experience erratic work schedules and frequent variation in hours worked relative to young adults without disabilities. Sevak's presentation highlighted ways that Mathematica and other organizations leverage data to help inform and improve policies and programs that support people with disabilities. Check out Sevak's presentation here.
On the heels of National Disability Employment Awareness Month, Mathematica is proud to partner with BLS in making progress together.