Projects
Namibia: Vocational and Skills Training
2013-2016
Prepared For
Millennium Challenge Corporation
The Millennium Challenge Corporation (MCC) worked with the Government of the Republic of Namibia beginning in 2009 on several initiatives, including a vocational and skills training activity designed to expand the availability, quality, and relevance of vocational training in the country.
Mathematica evaluated three major components of the vocational and skills training activity.
Mathematica evaluated three major components of the vocational and skills training activity.
The first component involved improvement and expansion of seven Community Skills and Development Centers (COSDECs), which included investments in physical infrastructure and management capacity at these institutions. Mathematica conducted an outcomes analysis of trainees who participated in short-term and national unit standard training courses at the new COSDEC facilities, combined with a process evaluation to look at the implementation successes and challenges.
The second component provided technical assistance to the National Training Authority to establish a levy collection, distribution, and reporting system for the National Training Fund (NTF) that funds high-priority training through a payroll levy. Mathematica conducted a performance evaluation to assess implementation success at various stages of operation of the NTF.
The third component provided competitive grants to vocational training providers through a vocational training grant fund, which supports high-priority training before the NTF is fully functioning. To evaluate this component, Mathematica used an experimental design, where training applicants were randomly assigned to a treatment or a control group whenever a training program was oversubscribed. We also conducted a process evaluation to assess the grant administration process and capture stakeholder perspectives about the grants. Mathematica oversaw all data collection for the evaluation, including tracer surveys and qualitative data collection.
Read More
Evidence & Insights From This Project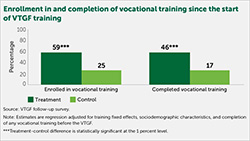 News
Supporting Namibia's Economy with Better Vocational Training
A lack of skilled workers and the limitations of the education system are impeding Namibia's economic diversification and broad-based growth.
Learn More
Related Staff
Evan Borkum
Principal Researcher
View Bio Page
See Clearly. Act Quickly.
We can help you shine a spotlight through the dark. Get in touch to learn more about how Mathematica could help advance your mission.
Explore Partnership