Erie House
The Erie Neighborhood House is a nonprofit organization that provides programs and support for families. Since fall 2015, staff members from Mathematica's Chicago office have served as volunteer mentors in Erie's weekly Tutoring to Educate for Aims and Motivation (TEAM) program. In January 2016, that relationship became an official affiliation, with Erie designated as the Chicago office's volunteer site, specifically working in the Erie House Youth Options Unlimited (YOU) program.
YOU is an after-school program that provides academic support for at-risk youth ages 12 to 18. Staff provide weekly mentorship, paper donations, and snack donations for the Monday and Wednesday TEAM students and mentors. In addition, almost every other month, Mathematica staff organize and host a college readiness workshop for the students. "I have enjoyed seeing my student grow and meet her goals," says Daisy Gonzalez, Mathematica survey research associate. "I can see the impact that we have in the students through the mentorship and the bimonthly Saturday workshops because we provide the students with a safe space where they can discuss their goals, fears, doubts, and so on. There are weeks when you will simply help them with their homework, and there are weeks when you will be that one adult that they could talk to openly. You become another resource for this student, and I think that is worth a lot."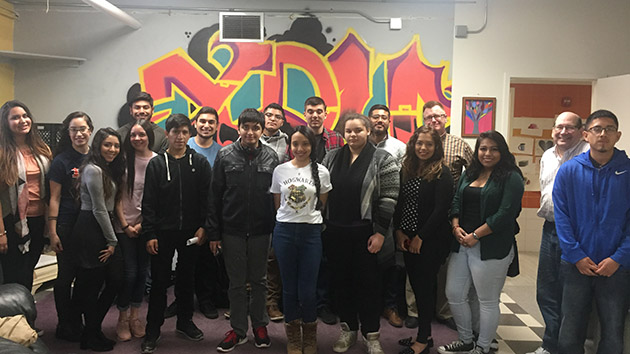 As many people know, Chicago has a reputation as the fun office, and so it should come as no surprise that Chicago staff also host fun activities and fundraisers for the Erie House's YOU program. Currently, a team of Mathematica staff are volunteering to develop a survey that will help YOU coordinators and directors track their alumni and provide them with some data that can serve to assess program effectiveness.
Intersections: Where Research Meets Real Life
Learn more about Mathematica's Education research.