A Lifeline for Homeless Families and Children
Consistency, longevity, and variety are the hallmarks of our volunteer activities for HomeFront, an iconic Trenton organization, located just a short drive from our Princeton office, that serves homeless and at-risk families and children in crisis. Mathematica volunteers have a hand in many of HomeFront's programs, but we are best known for our work organizing and funding HomeFront's annual Mother's Day picnic. For more than two decades, Mathematica staff have lent their time and efforts to this day of celebration on the weekend before Mother's Day, which honors and recognizes more than 250 HomeFront moms and their families.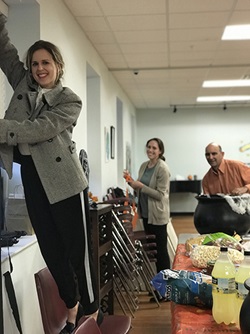 Our staff also pitch in with HomeFront's Halloween party, providing costumes and helping out with games and activities. And HomeFront can count on Mathematica staff to fill about a dozen backpacks with back-to-school supplies for HomeFront kids, donate Thanksgiving baskets, Christmas gifts, and hold regular fundraisers for the food pantry, as well.
Helping at-risk kids is an important area where our volunteers make a difference. You'll find Mathematica staff consistently pledging their time to after-school and evening tutoring programs, a long-term commitment that begins in September and stretches throughout the school year. Our staff were also instrumental in starting a basketball coaching program and league in 2007. The program has served about 100 HomeFront kids.
For our volunteers, helping HomeFront complements the work and research they conduct. HomeFront provides a wealth of services, including those to stem the impacts of poor nutrition on families and kids by providing access to healthy, nutritious food. Staff and senior management alike are committed to giving back in their communities to improve the situations of those who are less fortunate.
Intersections: Where Research Meets Real Life
Learn more about Mathematica's Nutrition, Family Support, Education, Early Childhood, and Health research.
Other Princeton Volunteer Activities

Oyster Bowl

CASA Fun Run