Meeting Community Needs
For Alli Steiner and the Cambridge Volunteer Committee, supporting local community organizations aligns well with Mathematica's mission to improve public well-being. A health analyst in the Cambridge office, Alli helps coordinate volunteers who give time, talent, and financial support to East End House, one of Cambridge's most venerable community institutions. East End House serves Cambridge residents of all ages with programs that address education, health, food, and family support.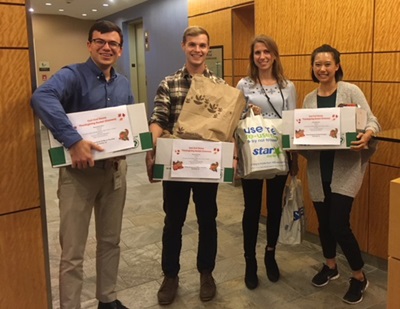 Mathematica donates time, gifts, and food to support East End House's three holiday drives, which include the Thanksgiving Basket Giveaway, the Adopt-a-Family Holiday Drive, and the Holiday Toy Drive. In addition to collecting food and gift cards to put in the Thanksgiving baskets, Mathematica staff assemble hundreds of baskets and help hand them out. In 2017, the Thanksgiving basket program gave 5,000 people essential ingredients for their Thanksgiving meal. The Cambridge office also donates to the toy drive and "adopts" several families to fulfill those families' holiday wish lists. Mathematica volunteers then help East End House transform its gymnasium into a toy shop for the holiday toy drive.
"The local Cambridge community relies heavily on the East End House programs, and we are so fortunate to be able to participate in and support these efforts," says Alli. "In exchange for donated time and gifts, Mathematica volunteers can do meaningful work and connect with our community. This mutually beneficial partnership goes beyond the volunteering opportunities. East End House even allowed Mathematica to observe its pre-school class as a pre-test for an early education project!"
In addition to the East End House, the Cambridge Volunteer Committee has worked with Habitat for Humanity, the New England Center for Homeless Veterans, and Cradles to Crayons, a local non-profit that provides "everyday essentials to local children in need."
Intersections: Where Research Meets Real Life
Learn more about Mathematica's Health, Family Support, and Nutrition research.
Other Cambridge, Mass. Volunteer Activities