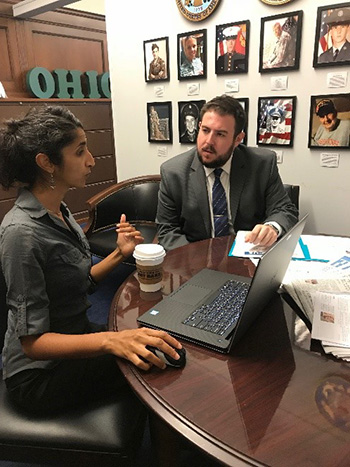 The opioid epidemic. It's a phrase becoming all too familiar for families throughout the United States who are seeing loved ones succumb to addiction at an alarming rate. The National Institute on Drug Abuse estimates that almost 50,000 Americans died in 2017 because of an opioid overdose—a fourfold increase since 2002. As opioid abuse continues to rise, we need new strategies—including better data and better tools to access those data—that will help federal, state, and local officials target resources to combat the epidemic more effectively.
The role of policymakers
Fatalities attributed to opioid abuse make up more than two-thirds of all drug-related deaths in the United States. With more than 115 opioid overdose deaths each day, policymakers have made combating substance abuse a top priority. In October 2017, President Trump declared the opioid crisis a public health emergency and directed all executive agencies to use "every appropriate emergency authority to fight the opioid crisis." Congress followed suit, providing nearly $4 billion in targeted funding for 2018, including more than $1 billion in grants available to states, such as the State Opioid Response (SOR) Grants, which opened up $930 million "to support a comprehensive response to the opioid epidemic and expand access to treatment and recovery support services," according to the U.S. Department of Health and Human Services. States have just begun to announce the amounts they have been awarded. Maryland was granted $66.2 million through SOR grants over a two-year period, and intends to use the money to expand treatment services, increase public awareness campaigns, and provide the opioid blocker naloxone to local jurisdictions. New Hampshire will receive $44 million over that same period to create hubs throughout the state to provide treatment services to those suffering with addiction. These two examples are just a small snapshot of the much larger world of federal grants to assist the epidemic.
How to effectively use this money
With an influx of additional resources, policymakers are faced with the daunting task of figuring out how best to use those resources to have the greatest effect. Balancing the push to address the crisis as fast as possible with the desire to ensure resources are put toward strategies with a proven track record raises the stakes, sometimes to the point of policy paralysis. A March 2018 Politico article noted that more than three-quarters of the $500 million Congress set aside in late 2016 under the 21 Century Cures Act has gone unspent. As a researcher, this is a worst-case scenario; without trying something, it's impossible to find any effective solutions. Policymakers should be constantly searching out and assessing new tools.
My Capitol Hill outreach
To aid lawmakers in the search for better data and tools, I traveled to Capitol Hill to discuss two Mathematica initiatives aimed at helping to address the opioid epidemic.
Stopping the Transmission of Opioids to the Next Generation (S.T.Op NextGen) is a new dynamic data dashboard that helps health care providers and local officials understand the unique health risks that the opioid crisis presents for women of childbearing age. The dashboard provides tailored information on death rates, risk factors for opioid misuse, and a map of nearby treatment facilities for women with addiction. By simply adding your zip code, you'll see how the epidemic affects women in your community, in neighboring communities, and across the nation. Adding in patient or population demographic characteristics, such as age, education level, or history of alcohol or drug problems, enables providers and city officials to see the most salient risk factors for opioid misuse. Finally, to help facilitate treatment for addiction, the tool includes a map of nearby treatment facilities, prioritizing those facilities best able to help patients deal with barriers to treatment such as child care, transportation, or insurance. Developed as part of the 2017 Opioid Code-a-Thon sponsored by the U.S. Department of Health and Human Services, the dashboard exemplifies what can be achieved when you invert the traditional research model to start with the data instead of a research question. By letting data speak, we expand the possible insights that can be had and allow for unexpected answers. The dashboard transforms existing data and statistics into a visual medium that everyone can absorb, enabling people to actually see the scope of the crisis among women in their communities.
Wastewater testing provides a rapid, cost-effective, and objective way to monitor drug use in communities across the United States. For the vast majority of American homes, researchers can test the wastewater (a mix of household sewage, industrial runoff, and, in some areas, storm water) in connected sewer systems for a variety of drugs, including opioids. When used routinely, wastewater testing can show trends in the amounts and mix of drugs used over time and provide early warning when new drugs enter a community. Cities can use wastewater testing to pinpoint which communities are most affected by drug use, and policymakers can better target their resources to hot spots with the most need. The methodology can also reveal how well drug control policies and programs work. And when analyzed in combination with other data sources, data from wastewater test results can help officials predict—rather than react to—changes in drug use. Best of all, because wastewater testing collects data at the community level, it cannot reveal who is using a given drug, mitigating concerns about privacy. Beyond opioids, experts are now warning of new waves of addiction stemming from a resurgence in meth and cocaine use. To help prevent the next epidemic, it's vital that public health officials harness the rich near-real-time data available from wastewater testing.
The road ahead
When discussing these tools with congressional staff, I was heartened to see how engaged and interested they were in new strategies to address old problems. At a time when their districts' local leaders are looking at ways to best spend their resources, Mathematica can provide a foundation—built on evidence and data—to ensure that their resources are well spent and decisions are well informed. Solving the opioid epidemic will take a variety of approaches, but these tools provide policymakers a blueprint for success.