Understanding the Power of Long-Term Impact Evaluations
International development programs are designed to make lasting and positive improvements in the health, education, and income of disadvantaged people around the world. A well-designed impact evaluation can reveal valuable insights into the effectiveness of a program in achieving its desired outcomes, such as higher rates of literacy or agricultural production. However, rigid funding cycles, measurement challenges, and changes in program priorities over time can lead researchers to focus on short-term results instead of longer-term impacts such as higher educational attainment or lower rates of poverty. To understand whether a program creates sustained impacts, impact evaluations must have a longer time horizon. With a growing number of available impact evaluations and new data technologies that make credible ex post evaluations possible, the opportunities to measure development outcomes over a longer horizon are expanding.
On June 12 from 9:30 a.m.–11:00 a.m. (ET), Mathematica and the U.S. Agency for International Development (USAID) hosted a forum highlighting the power of long-term impact evaluations. Expert panelists from USAID's Expanding the Research of Impact Evaluation (ERIE) initiative participated. Participants joined the panelists from the ERIE partnership and USAID to learn about a new resource guide on conducting long-term evaluations and to discuss specific examples of these evaluations in the health, education, and agriculture sectors.
This event was held at Mathematica's Washington, DC, office, located at 1100 First Street, NE, 12th Floor, and via live webinar. Before the forum, a reception and continental breakfast took place in the lobby of Mathematica's office at 9:00 a.m.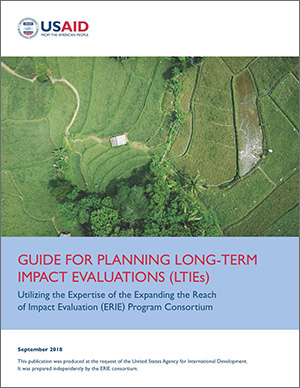 About ERIE:
ERIE is a partnership between USAID, Mathematica, the Notre Dame Initiative for Global Development, AidData, the Center for Effective Global Action, and Geo-Spatial Impact Evaluation. It is designed to pilot long-term impact evaluations and demonstrate their value in strategic decision making.
Presenters:
Danice Brown Guzman, research associate, Notre Dame Initiative for Global Development
Joshua Kaufman, director, Office of Evaluation and Impact Assessment, USAID
Katherine Nolan, senior research analyst, AidData
Matt Sloan, director, Mathematica
Moderator:
Delia Welsh, senior researcher, Mathematica