Health-related social needs such as stable housing, food security, protection from interpersonal violence, and transportation are key drivers of health care utilization and cost, yet it is often difficult for health care providers and systems to identify such needs and connect patients with appropriate services. To help bridge this gap between clinical care and community services, the Center for Medicare & Medicaid Innovation (Innovation Center) in the Centers for Medicare & Medicaid Services (CMS) launched the Accountable Health Communities (AHC) Model in 2017. The AHC Model initiative is an opportunity to apply a standard approach to identifying and addressing health-related social needs among Medicare and Medicaid beneficiaries in an effort to reduce health care utilization and cost.
Systematic implementation of the AHC Model as well as robust learning systems, technical assistance, and evaluation will help CMS determine the effect of identifying and addressing health-related social needs. Together with HealthBegins and the Center for Health Care Strategies, Mathematica is providing AHC grantees, known as "bridge organizations," with educational content and technical assistance to help them effectively partner with clinical organizations and community service providers. Bridge organizations, selected by the CMS Innovation Center through a competitive grant process, are identifying beneficiaries' health-related social needs and helping them access appropriate services. These bridge organizations serve rural and urban communities in 278 counties across 21 states. The organizations include provider organizations, academic institutions, and local governments.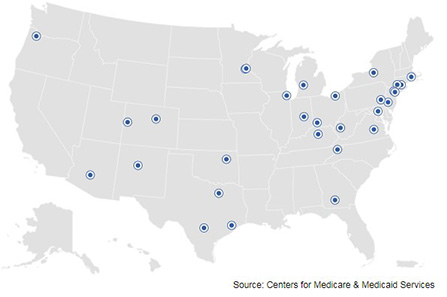 There are currently
30 organizations
participating in the Accountable Health Communities Model.
Mathematica and its partners assisted the CMS Innovation Center in testing and disseminating a screening tool and guide for assessing health-related social needs, and are providing ongoing learning system activities and technical assistance for the AHC bridge organizations. Mathematica and its team of experts are also monitoring the bridge organizations' progress and compliance with program rules, and they are collecting and analyzing programmatic data to inform the learning system curriculum and program implementation. An independent evaluation will determine the impact of the model on quality of care and spending, including total health care costs and inpatient and outpatient health care utilization.
"The AHC Model is a promising approach to integrating clinical care with social service supports," according to Mathematica's Nyna Williams, director of the AHC Model Implementation, Learning System, Technical Assistance, and Monitoring project. "By supporting the local bridge organizations in more effectively identifying and addressing health-related social needs, we are helping the CMS Innovation Center reduce health care costs for Medicare and Medicaid and improve the health of their beneficiaries."