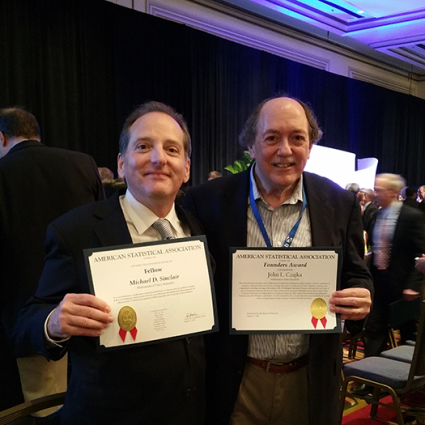 Mathematica Policy Research Senior Fellow John Czajka has earned the American Statistical Association (ASA) Founders Award, the highest honor bestowed by the organization. Established in 1988, the Founders Award recognizes members who have rendered distinguished service to the association.
"It is gratifying to see John earn this recognition," said Don Jang, director of data science and statistics. "His contributions to the statistical field have helped us deliver high quality research evidence to improve policies and programs."
Czajka was one of four 2016 Founders Award recipients honored at the recent Joint Statistical Meetings in Chicago. By tradition, the winners' names are a closely held secret until they are announced following the ASA president's address.
Mathematica Senior Fellow Michael Sinclair also was recognized at the meetings for his recent selection as an ASA Fellow. Sinclair joins Senior Fellows Frank Potter, Allen Schirm, and Czajka, who earned this distinction in previous years.