A report from Mathematica and the National Academy for State Health Policy (NASHP) shows that profit margins for U.S. hospitals rose in 2020 and 2021, despite growing labor and other operating costs. Hospitals achieved record profits in part because of changes to federal payment policies and funding support related to the COVID-19 pandemic.
"The pandemic exacerbated pre-existing shortages of health care workers," said Evelyn Li, senior researcher and price transparency lead at Mathematica. "As labor shortages persist after the pandemic, it is important for states and hospital administrators to understand the driving forces behind hospitals' growing labor costs and the impact on their bottom lines."
Responding to state requests for data-driven insights on hospital labor costs and ways to contain them, NASHP added labor cost estimates to its Hospital Cost Tool (HCT) 2.0. The tool's data set is the first to provide labor cost estimates for all short-term acute care hospitals in the United States over the past decade, including during the COVID-19 pandemic.
"Increased labor costs are affecting all businesses, hospitals included," noted Marilyn Bartlett, senior policy fellow at NASHP. "Using data to understand labor within overall health care expenses is helpful for all purchasers of care—states, employers, and consumers—who are ultimately responsible for these costs."
The HCT 2.0 contains data from more than 35,000 Medicare cost reports from 2011 to 2021 for short-term acute care hospitals in 50 states and the District of Columbia. As shown in the chart, hospitals' median net profit margins peaked in 2020 and 2021, fueled by federal and state COVID-19 funding and enhanced federal program rates.
National trends in the growth of direct patient care labor costs and hospital utilization compared with hospital operating and net profit margins, 2011–2021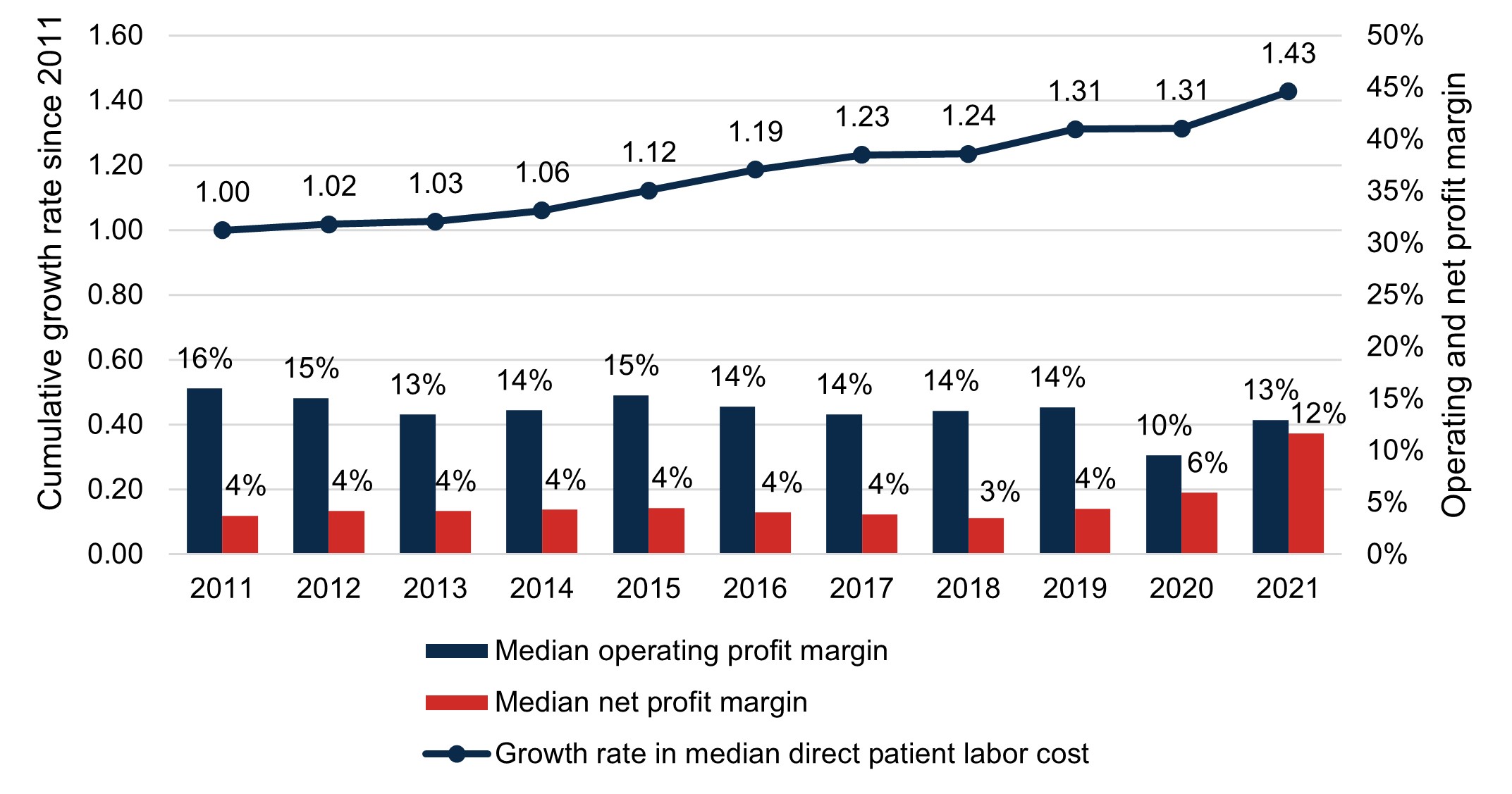 "Although the pandemic is now behind us, hospitals continue to grapple with the aftereffects, such as gaps in post-acute care and staffing shortages due to burnout and dissatisfaction among health care workers," said Sule Gerovich, senior fellow at Mathematica. "Financial pressures and labor shortages in the entire health care sector might pose a challenge for the industry—and offer an opportunity to innovate to provide services more efficiently and increase staffing levels."
Read the full issue brief and learn more about the Hospital Cost Tool.