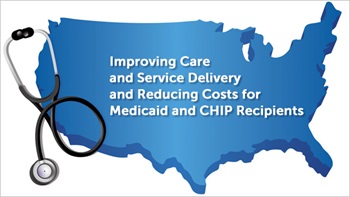 Mathematica's health experts recently completed interim studies of the Managed Long-Term Services and Supports (MLTSS) and Delivery System Reform Incentive Payment (DSRIP) programs as part of the national cross-state evaluation of the Centers for Medicare & Medicaid Services (CMS) Medicaid section 1115 demonstrations. The evaluation of four types of section 1115 demonstrations is a key effort by CMS to inform policymakers about how to improve the Medicaid program and future demonstration investments.
"States have been encouraged to experiment in how they serve Medicaid beneficiaries to improve quality, access, and outcomes in a cost-effective manner," said Maggie Colby, director at Mathematica. "Our early findings show that some approaches seem to be working, while others have results that have yet to be seen."
DSRIP findings
The DSRIP demonstrations aim to transform the way services are delivered by building safety net infrastructure and workforce capacity and by preparing providers for value-based payment mechanisms. To achieve these goals, hospitals and other safety net providers receive incentive payments for implementing projects, reporting metrics, and achieving milestone and metric performance targets.
Mathematica conducted qualitative and quantitative studies of the DSRIP demonstrations across seven states. Qualitative findings suggest that DSRIP motivates provider collaboration, delivery system changes, and movement toward value-based payment among safety net and other Medicaid providers. But questions remain about the sustainability of changes beyond the demonstration period. Ensuring adequate funding for safety net and nonhospital providers to support changes made under DSRIP remains a key concern.
Overall DSRIP interim findings, focused on California, New Jersey, and Texas, suggest there were no consistent impacts on outcomes in the study states. However, the evaluation examined changes in the initial years of these DSRIP demonstrations, when DSRIP activities were primarily focused on infrastructure development and capacity building. Impacts might be detectable in later years as demonstrations move beyond this phase and investments might begin to improve outcome measures. As the evaluation continues and later years of administrative data become available for analysis, there will be an opportunity to observe longer exposures and incorporate additional demonstration and comparison states.
MLTSS findings
MLTSS programs provide long-term services and supports to older adults or people with disabilities through a managed care delivery system. The programs cover institutional services, such as nursing facilities, and home- and community-based services (HCBS), such as personal care assistance. As more states use MLTSS, a growing need arises for evidence on the extent to which these programs are improving patient care and reducing program cost.
Mathematica's MLTSS interim evaluation found that state MLTSS programs varied substantially in their scale and the populations they enrolled. Evidence on the ability of MLTSS in two states, New York and Tennessee, to reduce hospitalizations and rebalance care toward HCBS is mixed. MLTSS was associated with the following in New York's Managed Long Term Care program and Tennessee's CHOICES program:
Higher use of personal care visits in both states with significantly more in New York than in Tennessee
Higher use of HCBS in New York and among Medicaid-only beneficiaries in Tennessee
Lower use of institutional care in New York with little change in Tennessee
Lower use of hospital care (using three outcome measures) in New York
Slightly more hospital days in Tennessee with inconclusive results on two other hospital care outcomes
Researchers also found limitations in the national data, suggesting the need for more state-by-state evaluation, case studies, and meta-analyses of those case studies to accurately determine the effect of MLTSS.
The research team will continue studying the selected 1115 demonstrations with the goal of releasing a final evaluation report in 2019. Visit the CMS 1115 Demonstration Evaluations webpage for all available reports.