Mathematica Appoints Two New Senior Fellows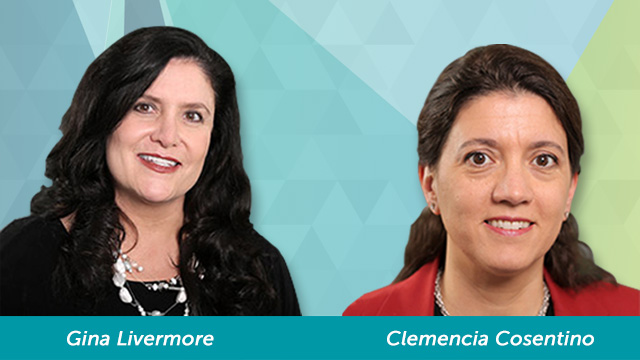 Mathematica has appointed Clemencia Cosentino and Gina Livermore as its newest senior fellows. The senior fellow designation recognizes the leadership of each in their respective fields and their ongoing commitment to following through on Mathematica's mission to use data and evidence to improve public well-being.
"Clemencia and Gina embody Mathematica's commitment to both enhance public understanding of critical social policy issues and advance the tools social scientists use to unearth these insights," said Paul Decker, president and CEO of Mathematica. "They are not only valued leaders within our company, but also valued voices within their respective fields. I look forward to working with them to find new ways to deliver invaluable counsel to our clients and partners that help illuminate the path to progress toward a brighter world."
Clemencia Cosentino is widely recognized as an expert in science, technology, engineering, and mathematics (STEM), including the underrepresentation of minorities and women in STEM-related degree programs, training, and careers. Cosentino works closely with the National Science Foundation and is frequently invited to speak to foundations, professional societies, universities, and international organizations, including the National Academies, the Committee on Equal Opportunities in Science and Engineering, UNICEF, the American Society for Engineering Education, and Harvard University regarding evaluation design, findings, and policy implications. In addition, she has been a key leader in helping expand Mathematica's international work while also gaining broad recognition for her work to increase access to educational opportunity and improve educational outcomes for disadvantaged youth in developing countries.
Cosentino joined Mathematica in 2010 and has a Ph.D. in sociology with concentrations in education and international development from Princeton University.
Gina Livermore is well known for her expertise in the economic well-being and self-sufficiency of people with disabilities. She publishes widely and is the author of several chapters in Growth in Disability Benefits: Explanations and Policy Implications, The Decline in Employment of People with Disabilities: A Policy Puzzle, and Counting Working-Age People with Disabilities: What Current Data Tell Us and Options for Improvement. Livermore is a member of the National Academy of Social Insurance and director of Mathematica's Center for Studying Disability Policy. Her work appears frequently in journals such as the Journal of Disability Policy Studies, Health Affairs, Social Science Quarterly, and Social Security Bulletin. Livermore's extensive research into the quality of national disability data includes important work on the limitations of these data and potential improvements to the national system.
Livermore joined Mathematica in 2007, and has a Ph.D. in economics from the University of Wisconsin-Madison and an M.P.H. in epidemiology from Tulane University.