A new report from Mathematica for the Louisiana Department of Education and the Walton Family Foundation helps Louisiana measure each high school's promotion power—that is, the school's impact on the long-term success of its students as indicated by high school graduation, college or career readiness, college enrollment and persistence, and success in the job market.
Promotion power measures are designed to disentangle the impact of a given high school from the effects of students' previous schools, family resources, and other external factors (Figure 1). The study shows that some Louisiana high schools are much more effective than others at promoting students' long-term outcomes—and the high schools that are best at promoting their students' long-term prospects are not always the ones that have the highest levels of the outcome measures.
Figure 1. Promotion power measures separate schools' contributions to students' long-term outcomes from other factors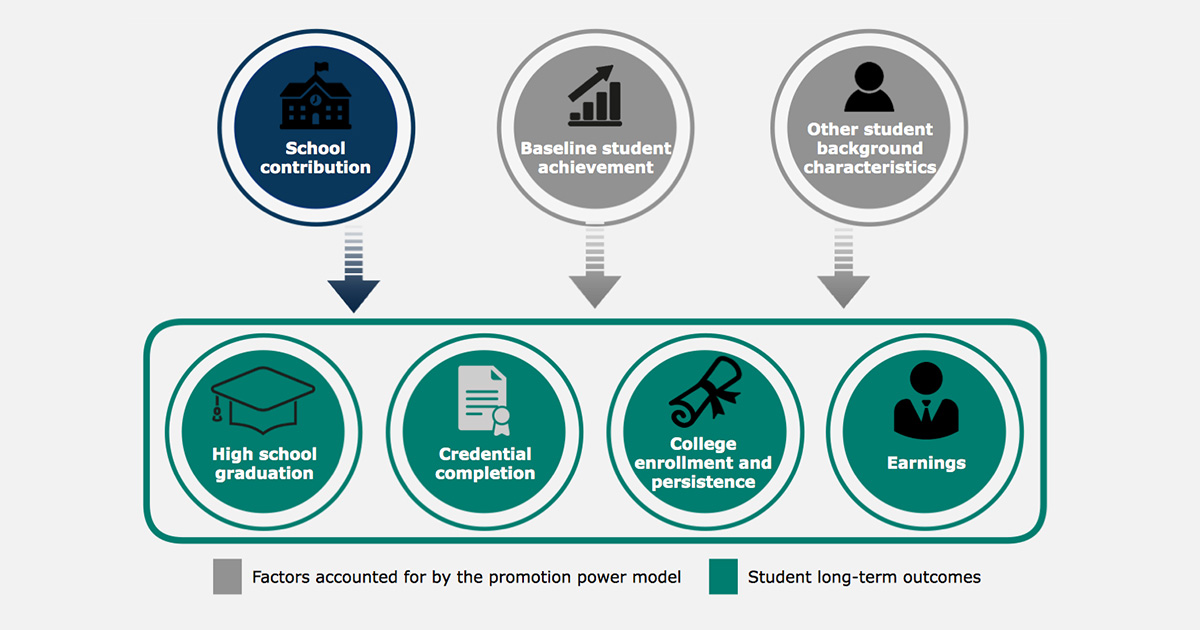 Key findings include the following:
Measures of promotion power substantially reduce or even eliminate the relationship between students' poverty and a school's performance, thereby assessing school effectiveness more accurately. Some schools with high levels of the outcome measures merely benefit from serving advantaged students, and other schools with lower raw outcomes are dramatically improving the prospects of disadvantaged students.
Schools with a positive impact on one measure of promotion power are more likely to positively impact other long-term outcomes of students, but many schools show varying effectiveness for different outcomes.
"The promotion power measures developed in this study help Louisiana identify high schools that are moving the needle on students' long-term outcomes," said Matthew Johnson, who directed the study. "In future research, we can examine the policies and practices in place at schools with high promotion power to help inform policymakers and educators about the features of high schools that are related to impacts on students' long-term outcomes."
Read more about how Mathematica helps our partners obtain and understand evidence about pressing issues in education.