Promising Policies Help Workers Keep Their Jobs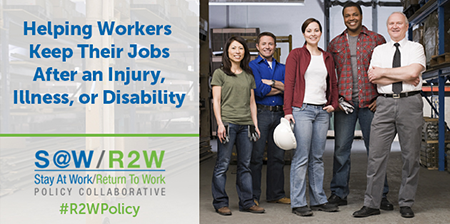 ---
Every year, more than 2 million workers leave the labor force because a medical condition affects their ability to work. If they could keep their jobs instead, they could preserve their livelihood, contribute to the productivity and tax base of the economy, and help lower federal and state spending on public assistance programs like Social Security Disability Insurance and Medicaid.
2016 SAW/RTW Policy Work Group Recommendations
Steps States Can Take to Help Workers Keep Their Jobs after Injury, Illness, or Disability
Behavioral Interventions to Promote Job Retention After Injury or Illness

Helping Workers Who Develop Medical Problems Stay Employed: Expanding Washington's COHE Program Beyond Workers' Compensation
Policy brief
Report
---
Related

Projects
Stay-at-Work/Return-to-Work Policy Collaborative—S@W/R2W

The Office of Disability Employment Policy has a strong interest in advancing policies and programs that promote positive stay-at-work/return-to-work (SAW/RTW) outcomes for workers who experience a chronic illness, disability, or medical condition.