To prevent further outbreaks of COVID-19, many communities seek to detect rising infection rates as soon as possible. New research shows the importance of looking at wastewater data for early warning signs.
In July and August, Mathematica conducted a pilot study in Jackson County, North Carolina, to examine the amount of the virus appearing in wastewater. The results suggest officials could identify an uptick or downtick in infections up to nine days before individual testing would reflect such trends.
The results rely on wastewater samples collected and analyzed over a four-week period from July 28 to August 18. For the pilot project, Mathematica partnered with the Tuckaseigee Water and Sewer Authority, the Jackson County Department of Public Health, the McLellan Lab at the University of Wisconsin-Milwaukee, and Dogwood Health Trust. They wanted to see if wastewater testing could serve as an effective epidemiological tool in managing the spread of COVID-19.
How can wastewater data help public health departments get control of the pandemic? "Wastewater testing offers a way around the problems of test kit shortages and asymptomatic transmission," said Aparna Keshaviah, a senior statistician who leads Mathematica's wastewater work and lives in Western North Carolina. "With a single test, you can detect infections among tens of thousands of people, including people who are infectious but don't show any symptoms."
About 80 percent of U.S. households are connected to a sewer system, and staff at almost 15,000 wastewater treatment plants around the country already collect samples to detect pollutants in sewage and storm runoff. In other words, many municipalities have the infrastructure in place to conduct rapid, repeated, communitywide viral testing.
The Jackson County pilot project is one of the few wastewater studies to focus on a rural population. Data showed a high number of virus particles, also known as the viral load, on July 28, about nine days before the number of daily confirmed cases in the county jumped from 8 to 21. After that spike in the viral load, the county's wastewater data showed a consistent decline that resembled the trend in confirmed cases about a week later. Mathematica researchers found the trend in the wastewater viral load mirrored the trend in other regional indicators. These include an indicator of COVID-19 prevalence based on a combination of doctor visits and Facebook symptom surveys, and case counts at the local university, based on data from the New York Times.
COVID-19 Wastewater Viral Loads vs. Cases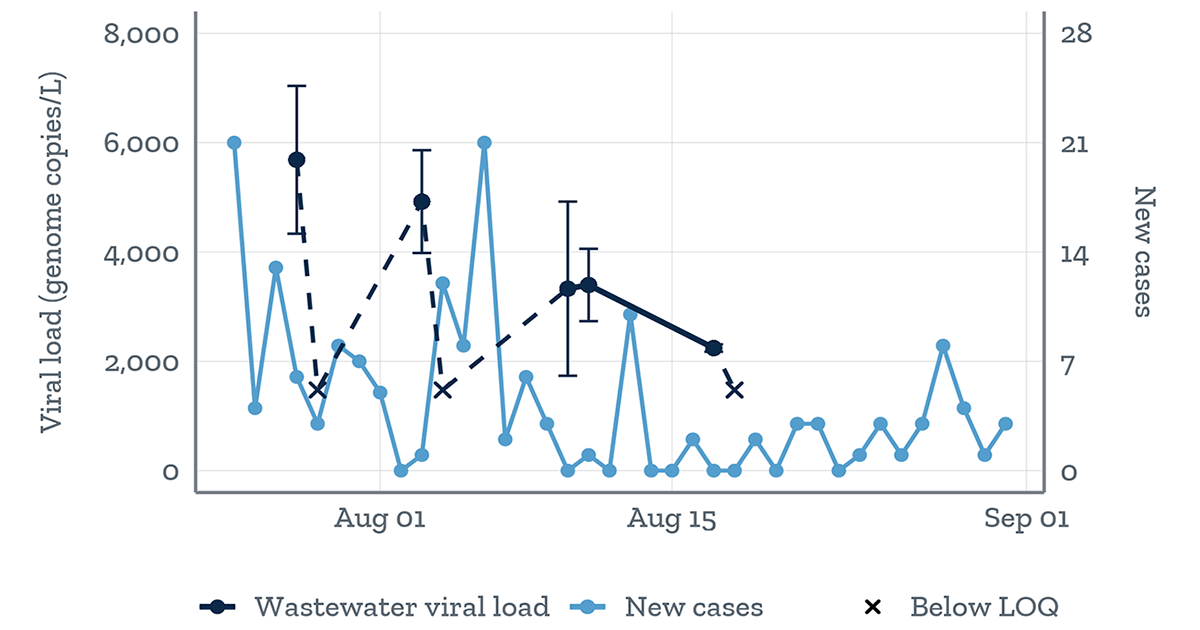 Wastewater data could help officials in Jackson County monitor for outbreaks and determine when it's safe to reopen schools and businesses. Based on the success of the Jackson County pilot, Mathematica hopes to expand COVID-19 wastewater surveillance in the region, partnering with water utilities, public health agencies, and other officials in a broader set of counties in Western North Carolina. Continuously monitoring for changes in the prevalence of COVID-19 across a community would be particularly timely this fall, when the state expects more than a million visitors to its mountains.
Learn more about Mathematica's work on wastewater testing and COVID-19 here.
Media contact:
J.B. Wogan
jwogan@mathematica-mpr.com
202-250-3547