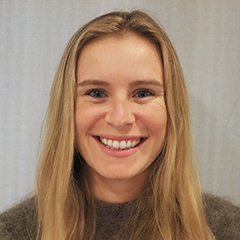 Alex Kobrin
Survey Researcher
Expertise
Survey development and data collection
Cognitive interviewing
Low-income and vulnerable populations
Focus Areas
Health
Disability
Human Services
Alex Kobrin specializes in survey development and design, survey mailings and outreach, cognitive interviews and developing interview protocols, and designing locating procedures for hard-to-reach populations. Her research includes evaluations on quality of care, advanced primary care models, and the well-being of people with disabilities, including transition-aged youth.
Kobrin has worked on a variety of health data collection and evaluation projects, such as the Evaluation of the Comprehensive Primary Care Plus (CPC+) Model, Promoting Readiness of Minors in Supplemental Security Income (PROMISE), and the Evaluation of Pediatric Subspecialists for the Lucile Packard Foundation for Children's Health. She is currently the project director on the Massachusetts Health Policy Commission workforce initiative, and the survey lead on the Primary Care First payer survey. Kobrin also provides technical assistance to CMCS and states surrounding health care quality measures, and for a Substance Abuse and Mental Health Services Administration (SAMHSA) project. Kobrin has also served as project manager on several projects.
Before joining Mathematica in 2017, Kobrin held various research positions at the Massachusetts General Hospital, Embr Labs, and Neumitra. She has a M.A. in survey research from the University of Connecticut and a B.A. in psychology and French from Middlebury College.