Helping the Needy Close to Home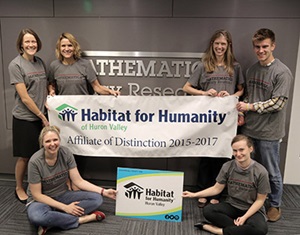 Bam. Clank. Thud. Mathematica staff members have made lots of loud noises working with the Huron Valley Habitat for Humanity Chapter over the years. The Ann Arbor office started volunteering with Habitat for Humanity in 2015. "We've hammered in the snow, painted siding in the spring, and most recently, worked on landscaping in the summer," says Megan Hague Angus, a researcher. "Every time we go on site, we have a complete blast. We were able to connect with home owners and each other. It feels great to participate in such meaningful, engaging, and fun work!"
In summer 2017, Ann Arbor staff contributed to a 50-person volunteer effort in which Habitat for Humanity renovated eight homes in one neighborhood. Being a part of the larger build effort throughout the neighboring town of Ypsilanti, Michigan enabled many of the volunteers to feel as if they were part of not only the local community, but also the larger solution helping to facilitate access to safe and affordable housing.
Mathematica's Ann Arbor staff are passionate about volunteering for several organizations local to the Washtenaw County area. The office started its volunteer activities with the Warm the Children Coat Drive and, in late 2017, will participate in Toys for Tots to provide toys to children during the winter season. In the past, Ann Arbor staff volunteered for Food Gatherers, a local food rescue and food bank program, and raised money for The Neutral Zone and SOS Community Services, community-based nonprofits that serve homeless families, children, and youth in the greater Ann Arbor area.
The Ann Arbor office has developed an impressive track record for volunteer work since it opened. Reflecting on her volunteer experiences, Research Analyst Mynti Hossain says, "There are parallels between volunteering and the research that we conduct at Mathematica. Volunteering gives you a different perspective and really brings home the importance of our work. Volunteering has been enriching and fulfilling for our staff."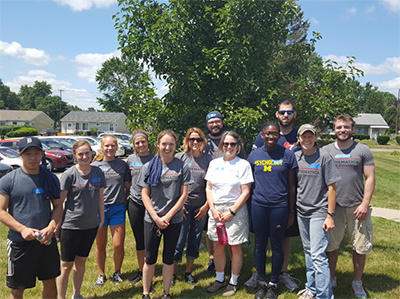 Intersections: Where Research Meets Real Life
Learn more about Mathematica's work in Nutrition, Family Support, and Health research.