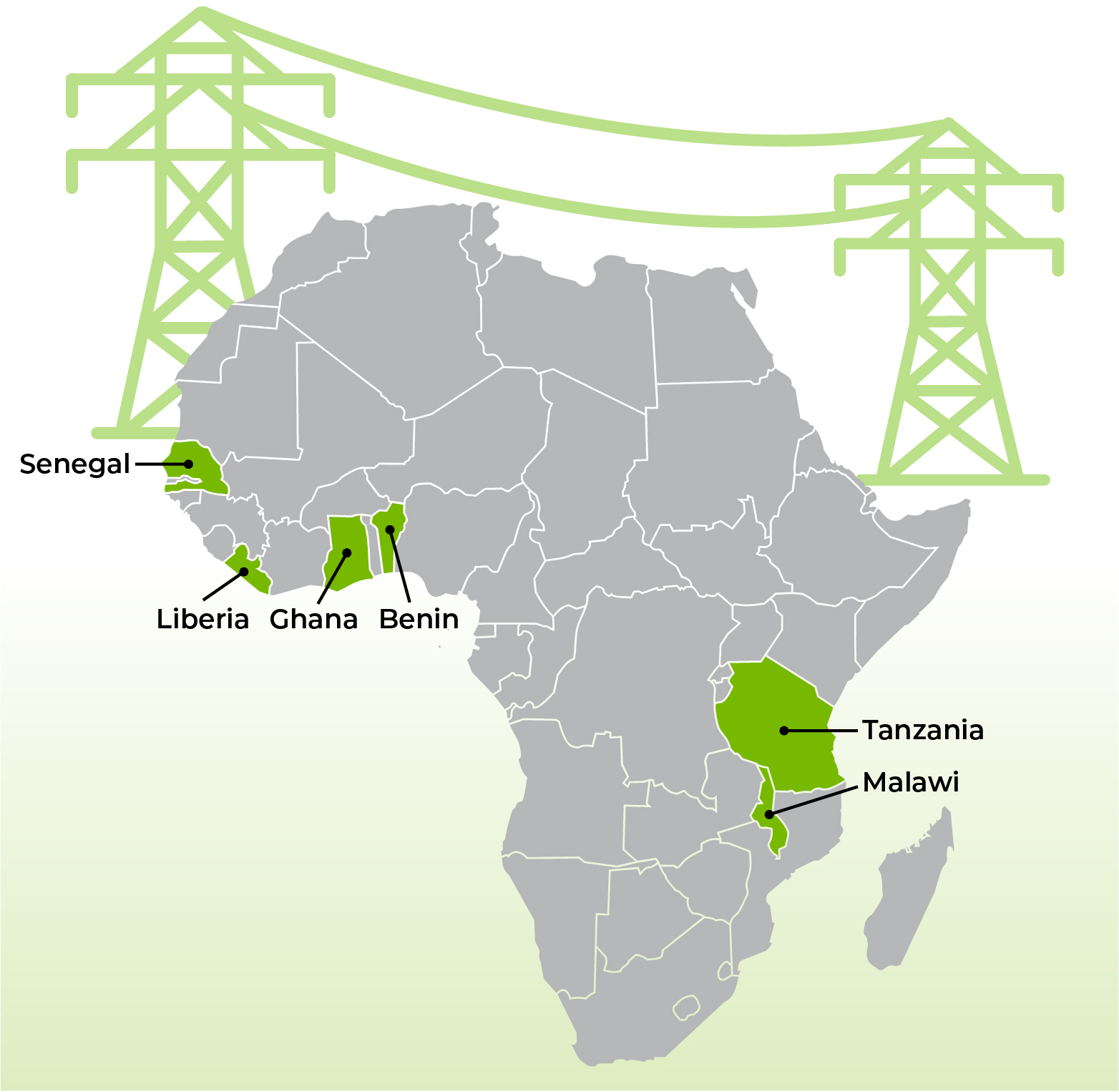 In most sub-Saharan African countries, safe and sustainable energy practices can potentially impact economic growth and household quality of life. Yet millions of Africans live without reliable electricity. The Millennium Challenge Corporation (MCC) has committed more than $1.5 billion to support Power Africa, a U.S. initiative designed to establish 60 million new electricity connections and generate 30,000 megawatts of power by bringing together African governments, the private sector, and donor partners to alleviate energy poverty and generate economic growth. Mathematica has partnered with MCC to study its energy sector investments in six lower and middle-income nations.
The Liberia Energy Compact is a partnership between MCC and the Government of Liberia designed to encourage economic growth and reduce poverty through increased access to affordable electricity. Mathematica evaluators are leading a comprehensive mixed-methods evaluation that will explore (1) project implementation; (2) grid and utility level outcomes; (3) citizens' willingness to pay for electricity; and (4) the project's impact on households, businesses, and social services.
MCC's Benin Power Compact aims to increase the capacity of domestic electricity generation and improve the quality, reliability, and stability of the electricity supply. Mathematica will evaluate several projects under this compact, including the Electricity Generation Project, the Electricity Distribution Project, and the Policy Reform and Institutional Strengthening Project. Our evaluations will help MCC determine whether the projects achieve the intended goals of improving the functioning of the main electricity utility, increasing energy efficiency, creating a favorable market for renewable energy investors, and improving Beninese business productivity and household well-being by upgrading the supply and quality of electricity.
The Ghana II Compact, a partnership between MCC and the Government of Ghana, was created to improve the quality and reliability of power distribution systems and promote energy efficiency in Ghana. Mathematica is designing and implementing rigorous evaluations of these projects. The evaluation will last 10 years, from September 2017 to September 2027.
Mathematica is providing data collection and analysis for the baseline study for Senegal's Power Compact. The baseline data will provide benchmarks against which the Millennium Challenge Account Senegal and MCC can measure progress toward the compact goals of improved electricity transmission, increased access to electricity throughout the country and strengthening of the electricity utilities.
We are also evaluating the part of MCC's compact in Malawi that is designed to provide more reliable hydroelectric power at reduced cost to households and businesses. Findings from this evaluation can be found here.
As part of the Power Africa initiative, Mathematica completed a 10-year evaluation of MCC's Energy Sector Project in Tanzania. This evaluation revealed that connecting households to the national electric grid might reduce poverty in Tanzania, but low connection rates make this service costly to provide.
*Note: This news release was updated on May 10, 2022 to reflect additional Power Africa projects.