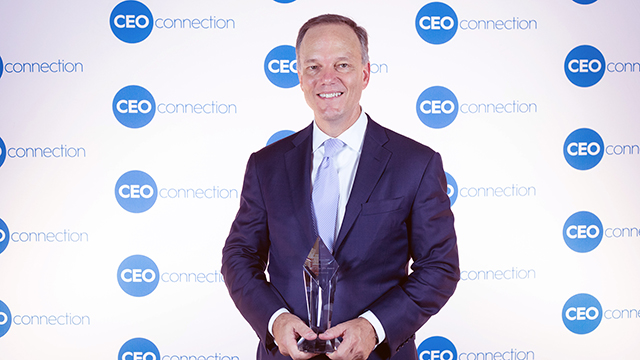 On September 25,
CEO Connection
—a membership organization focused on CEOs of companies with annual revenue between $100 million and $3 billion—recognized Mathematica's
Paul Decker
as the 2018 Mid-Market CEO of the Year. The award was presented to Decker as part of the
2018 Mid-Market Convention
, held in conjunction with the Wharton School at the University of Pennsylvania.
"I'm humbled to be recognized by CEO Connection and especially honored that this award comes just as Mathematica is celebrating 50 years of helping our partners uncover the insights they need to tackle social challenges around the world," said Paul Decker. "It is an exciting time to be leading Mathematica into new areas of work and to be a part of the community of mid-market companies who are driving innovation across the country and around the world."
Previous winners of the award include GoDaddy's Blake Irving, Mphasis's Ganesh Ayyar, Qlik's Lars Björk; and OtterBox's Brian Thomas.
Since joining Mathematica in 1988, Decker has become a nationally recognized expert in policy research, data analytics, education, and labor policy. During his tenure as president and CEO, he has led the expansion and diversification of Mathematica's work into new and evolving areas and maintained its long-standing commitment to rigorous and objective analysis.
Decker is a past president of the Association for Public Policy Analysis and Management and co-chaired the organization's strategic planning committee. He writes and speaks regularly on trends in the policy research field, including the emergence of big data and its impact on public program evaluation and management. Decker serves as a trustee of the Committee for Economic Development and chairs the government relations committee of CEO Connection. He has testified before Congress, served as an expert adviser to both the U.S. and Canadian governments, and published widely in peer-reviewed journals.
Decker holds a Ph.D. in economics from the Johns Hopkins University and serves as chair of development on the board of advisers of the Public Policy Program at the College of William and Mary, his undergraduate alma mater.