In recent years, states have made considerable strides in shifting long-term services and supports (LTSS) systems away from institutional care and toward home and community-based services (HCBS). In Federal Fiscal Year (FY) 2019, the proportion of Medicaid LTSS expenditures allocated to HCBS was at an all-time high both nationally and for many states. This followed years of steady gains and, for some states, uneven progress, according to a new report documenting Medicaid LTSS expenditures in FY 2019 prepared by Mathematica for the Centers for Medicare & Medicaid Services (CMS).
Nationally, HCBS made up 58.6 percent of Medicaid LTSS expenditures in FY 2019, an increase of 2.5 percentage points over FY 2018. At the state level, expenditures ranged from 33.4 percent in Mississippi to 83.3 percent in Oregon. Thirty states spent at least 50 percent of Medicaid dollars on HCBS in FY 2019. This finding showed an improvement over FY 2018, when 27 states met this benchmark.
Although nearly all states saw increases in total HCBS expenditures in FY 2019 compared with FY 2018, the goal of rebalancing initiatives is not simply to increase HCBS spending but to shift expenditures away from services provided in institutional settings to HCBS. Hawaii, Iowa, Kansas, Maine, Massachusetts, Nebraska, North Dakota, South Dakota, Texas, Washington, and Wyoming saw simultaneous increases in HCBS spending in FY 2019 while seeing declines in total institutional spending.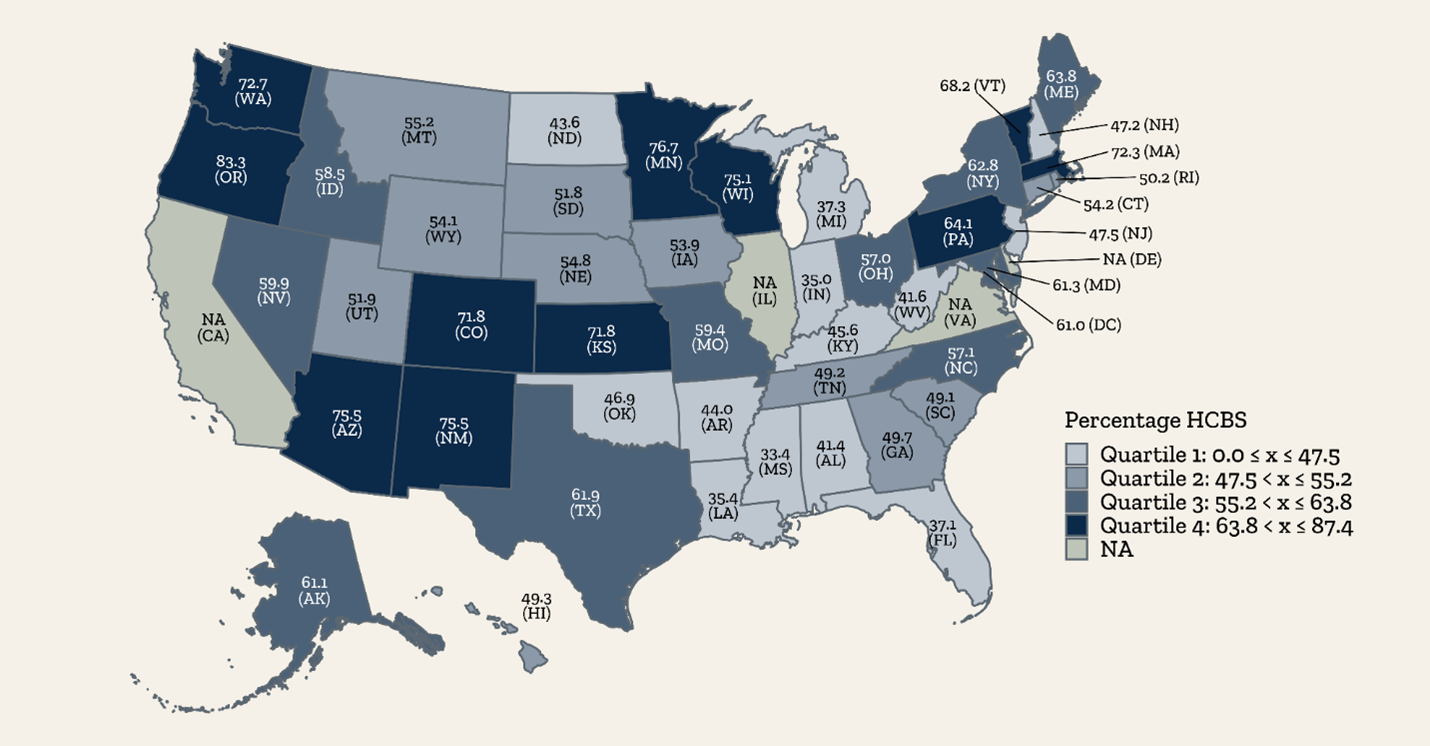 The new report also looked at broader trends in LTSS expenditures. National Medicaid LTSS expenditures totaled $162.1 billion in FY 2019, with $95.0 billion spent on HCBS and $67.1 billion spent on institutional services.
In recent years, LTSS expenditures have declined as a proportion of total Medicaid spending, from 47 percent in FY 1988 to 34 percent in FY 2019. Several factors have led to this decline, including state initiatives to rebalance spending on LTSS systems that promote the use of more cost-effective HCBS and increased spending for Medicaid populations that do not use LTSS. However, spending on managed LTSS (MLTSS) programs continued to grow in recent years, from $6.7 billion in FY 2008 to $47.5 billion in FY 2019. This growth reflects more states using MLTSS and more people receiving LTSS through these programs.
Because the report covers FY 2019, it is not clear how the public health emergency might impact LTSS expenditure and rebalancing trends. "One key unknown for FY 2020 is whether upward rebalancing trends will continue, given the major disruptions to Medicaid LTSS delivery during the pandemic and the major impact the pandemic has had on people living in nursing homes," said Andrea Wysocki, a lead researcher on this work. "It is also not clear how these trends will change as states take advantage of new opportunities to expand HCBS through increased funding from CMS. As states focus on increasing home and community-based options and accelerating rebalancing, it will be critical for CMS to continue monitoring Medicaid LTSS expenditures, users, and other measures that reflect LTSS access and quality of care to better understand how the LTSS system meets the needs of Medicaid beneficiaries."
You can read the full report on Medicaid LTSS expenditures here. A companion report on section 1915(c) waiver programs is available here.