Parents who participated in the Child Support Noncustodial Parent Employment Demonstration (CSPED) reported substantially higher levels of satisfaction with child support services compared with those who did not participate in the program. This finding comes from a randomized controlled trial conducted by Mathematica and the Institute for Research on Poverty at the University of Wisconsin and sponsored by the Office of Child Support Enforcement within the Administration for Children and Families (ACF). CSPED also led to a modest increase in parental earnings within one year after program entry (an effect that did not persist into the second year) and increased the sense of responsibility noncustodial parents felt toward their children.
Although the program did not increase compliance with child support obligations, nearly 70 percent of enrolled parents reported satisfaction with the child support system when offered the less punitive, more individualized CSPED program. Only 46 percent of those not enrolled in the program reported similar levels of satisfaction with the child support system (see figure).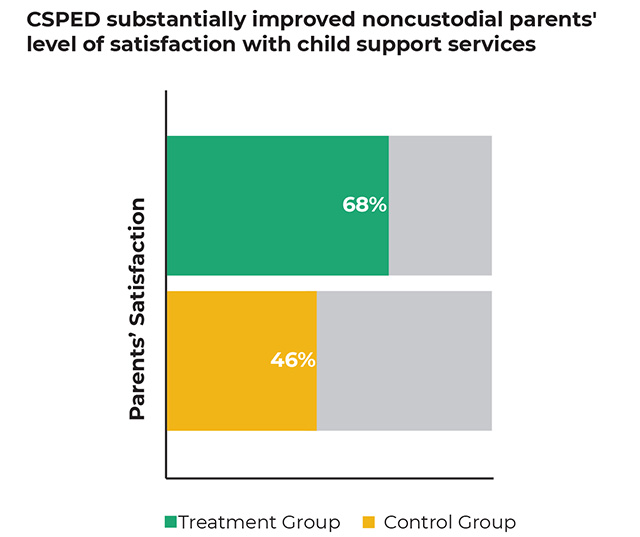 Many parents who do not live with their children, including a disproportionate share of those whose children live in poverty, have weak employment histories and limited earnings and ability to pay child support. In 2012, CSPED launched in eight states to examine the effectiveness of pilot programs designed to help noncustodial parents get jobs. The programs provided a package of services—including employment services, case management, and parenting classes—to help these parents become more financially and emotionally involved in their children's lives. Results from the rigorous evaluation are now available in an impact analysis and a benefit-cost analysis. A supplemental focus brief from the Institute for Research on Poverty, Can a Redesigned Child Support System Do Better?, summarizes overall findings from the impact and benefit-cost analyses. An implementation analysis can also be found on ACF's website.