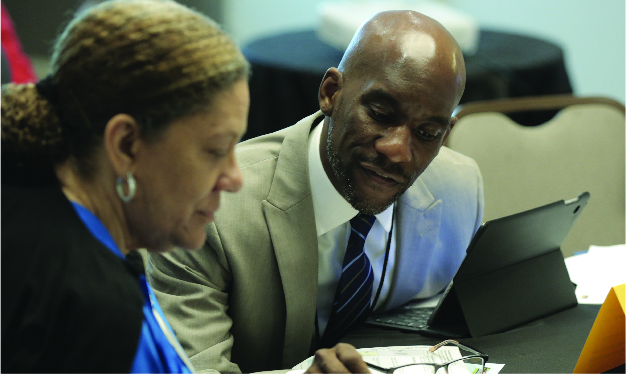 Photo by Rich Clement
Principals can play an important role in improving instruction and student achievement in their schools. Many professional development programs focus on strengthening principals' leadership skills. However, an intensive two-year principal professional development program did not improve student achievement or principal practices, according to a new study that Mathematica conducted for the Institute of Education Sciences at the U.S. Department of Education.
The study's key findings include the following:
Despite substantially increasing the amount of professional development principals received, the program did not affect student achievement or most teacher or school outcomes. For example, the program did not affect school climate or principal retention.
The program did not have the intended effects on the principal practices that it targeted, which may explain its lack of effects on key student, teacher, and school outcomes. For example, it decreased the frequency of instructional support and feedback teachers received from principals, and it did not affect the number of teacher observations principals conducted or the usefulness of the feedback as reported by teachers.
The research team did find that the program's effects on some practices were positively associated with its effects on student achievement. This suggests avenues for improving this type of program in the future. For example, the program's effects on principals' competence in providing instructional support to teachers, the frequency of feedback and support they provide to teachers, and the usefulness of teachers' interactions with principals about instruction were positively associated with its effects on student achievement in math. Effects on the first two practices were also positively associated with effects on English language arts achievement.
"The Elementary and Secondary Education Act gives states and districts flexibility to use federal funds to support principal leadership," said Susanne James-Burdumy, who directed the study. "This study provides much needed evidence on the effectiveness of one approach to supporting principal leadership. It also suggests that more research is needed to understand the most effective ways to improve principal practices."
One hundred elementary schools participated in this random assignment study. The study compared student achievement and teachers' perceptions of principals' practices in schools that received the professional development program with those that did not. The program focused on helping principals conduct structured observations of teachers' classroom instruction and provide targeted feedback to teachers. It included nearly 200 hours of professional development during the two-year period, half of it through individualized coaching.
Read more about our work to find out more about what we learned and where to go next in preparing and supporting principals for success in their roles as school leaders.
"The Effects of a Principal Professional Development Program Focused on Instructional Leadership"