Human Services Disability Topics
Economic Well Being and Income Support
The link between poverty and disability is well-known. People with disabilities experience poverty at rates that are two to three times the rate for the general population.
The Social Security Disability Insurance and Supplemental Security Income programs provide essential income support to many with significant impairments, but people with disabilities also represent a large share of those participating in many other public assistance programs. Our researchers have conducted studies of long-term poverty and material hardship among working-age people with disabilities, evaluated the effectiveness of benefits counseling and financial education interventions, assessed the factors affecting federal disability program applications and awards, and documented federal program outlays for the support of children and working-age people with disabilities.
Evidence & Insights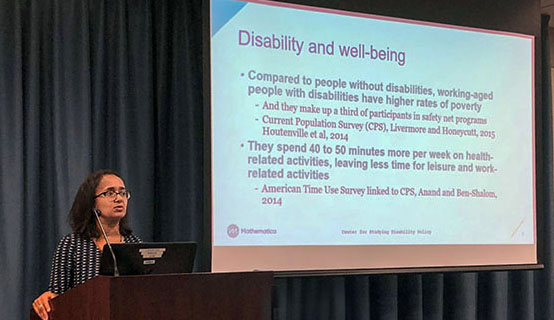 Using Data to Improve Employment Outcomes for People with Disabilities
Mathematica disability policy expert Purvi Sevak joined a panel of experts at the Bureau of Labor Statistics (BLS) to discuss how the agency is facilitating the collection and sharing of data that might help improve employment outcomes for people with disabilities.
Learn more
Services & Products
Progress is best made together.
We believe in close partnership - whether you're a small non-profit or a federal government agency, we stick with you to help you see clearly and act quickly.
Partners in Progress
Boyd Gilman
Senior Researcher
View Bio Page
Frank Martin
Researcher
View Bio Page
Jeffrey McCartney
Senior Analytic Solutions Architect
View Bio Page
See Clearly. Act Quickly.
We can help you shine a spotlight through the dark. Get in touch to learn more about how Mathematica could help advance your mission.
Explore Partnership