Projects
Translating Wastewater Data into Public Health Action
2021– 2023
Project Overview
Objective
To improve the practical value of wastewater data for public health officials to inform pandemic management and response strategies.
Project Motivation
The Rockefeller Foundation engaged Mathematica as a technical and thought partner to collaboratively guide grantees and develop generalizable analytics, tools, and communication products to boost public health officials' capacity to use wastewater data to prevent infectious disease outbreaks.
Partners in Progress
University of Louisville
Emory University
University of Oklahoma
City of Houston Health Department
Rice University
Arizona State University Biodesign Center for Environmental Health Engineering
Louisville Metro Public Health and Wellness
Tulsa City-County Health Department
Prepared For
The Rockefeller Foundation
Mathematica and The Rockefeller Foundation are gathering insights with partners across the country to understand how public health leaders have used wastewater data and increase the value of wastewater data for public health decision making.
Mathematica worked with the Rockefeller team to provide technical assistance to grantees, survey public health leaders on the role of wastewater data in pandemic management and develop the Covid-SURGE (Signaling Unprecedented Rises in Groupwide Exposure) toolkit to help policymakers leverage wastewater data for action.
Mathematica guided the approaches of grantees leading wastewater monitoring in their communities, identified opportunities for synergy, synthesized insights into a Nature Medicine article on how wastewater surveillance of pathogens can inform public health response, and co-developed a series of issue briefs summarizing implementation needs and challenges for public health officials interested in wastewater monitoring.
To gain insights into the value of wastewater data for pandemic management, Mathematica surveyed more than 200 U.S. state and local public health agency leaders. Findings were summarized in a survey brief that describes communities' capacity for wastewater monitoring, barriers and supports, and future interest in this methodology.
After analyzing data that States and the Centers for Disease Control and Prevention provided on roughly 118,000 wastewater samples collected from nearly 1,250 wastewater treatment plants across 50 states, we developed the Covid-SURGE toolkit, which includes Mathematica's Covid-SURGE Algorithm to flag community-level COVID-19 surges and an interactive Covid-SURGE Risk Estimator tool, which synthesizes wastewater data with traditional public health surveillance metrics into a composite risk score, risk trend analysis, and alerts signaling elevated risk.
The survey brief, grantee issue briefs, and Covid-SURGE toolkit are publicly available to help communities better leverage their wastewater data for COVID-19 management and response.
Project Impact
A survey of 194 local public health agency leaders, published by the Rockefeller Foundation in April, found that although 38% have monitored wastewater for the virus that causes Covid-19 at some point during the pandemic, only 21% reported that they are likely to monitor their wastewater after the pandemic wanes.
Evidence & Insights From This Project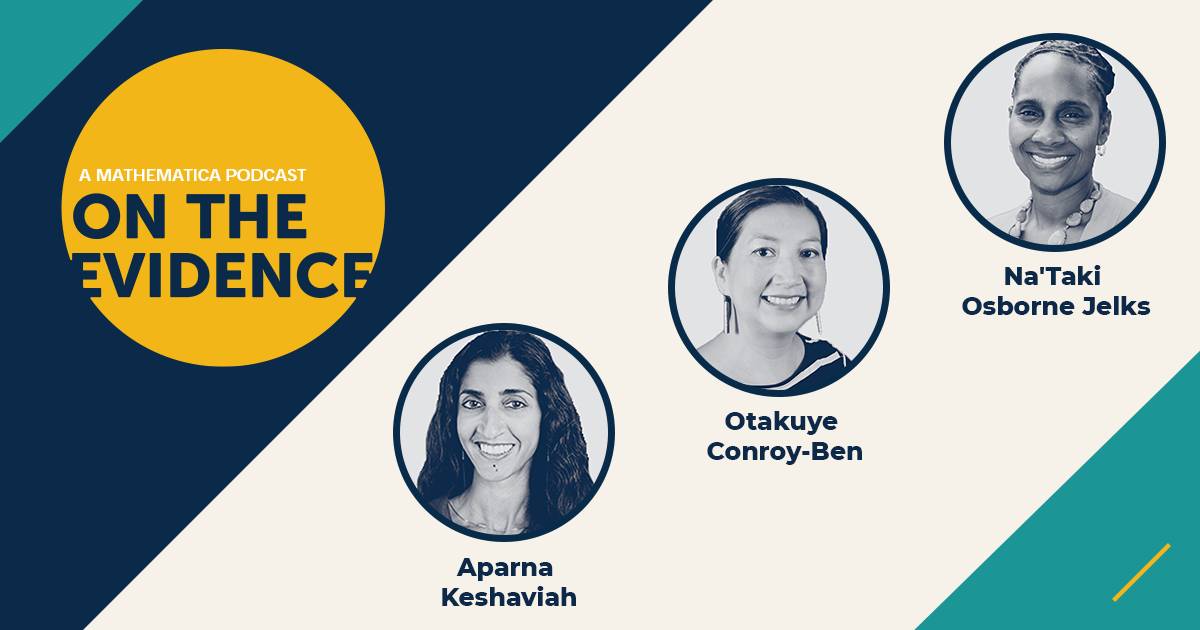 Podcast
Ensuring Equity as Wastewater Testing Matures in the United States
On this episode of On the Evidence, guests Mathematica's Aparna Keshaviah joins Spelman College's Na'Taki Osborne Jelks and Arizona State University's Na'Taki Conroy-Ben to discuss how the expanded use of wastewater testing as a tool for pandemic response could also advance equity.
Learn More
Related Staff
Public Health Data Analytics Solutions
Prevent, detect, and respond.
Our data science and public health experts work across sectors to provide enhanced surveillance, policy guidance, and mitigation strategies. Learn more about our services.
See Clearly. Act Quickly.
Our experts can help you make smart, sustainable decisions. From local to global challenges in health, human services, and international development, we're here to improve public well-being and make progress together.
Explore Partnership