Data Analytics
At Mathematica, we apply our expertise at the intersection of data science and social science to produce efficient, high quality, and action-oriented analysis that advances your mission. Using advanced technologies, reusable and scalable platforms, and high-performance secure cloud infrastructure, we enable our partners to target areas of opportunity and make the most of their data.
Our cloud-first approach means you're able to move quickly to solve for today, access the right tools for the job, and chart a course for sustained success in the data-driven future.
With Mathematica by your side, you're not just getting off-the-shelf software, you're getting a team of seasoned experts committed to help you develop the right data strategy, collect the data you need, manage data as a secure asset, conduct analyses that surface insights, and get this knowledge in the hands of those who need it most.

We collect and acquire data from primary, secondary and hybrid sources

We manage data with security embedded into each phase of the data life cycle

We analyze data using advanced tools, models, algorithms and predictive analytics

We visualize and disseminate complex data in accessible formats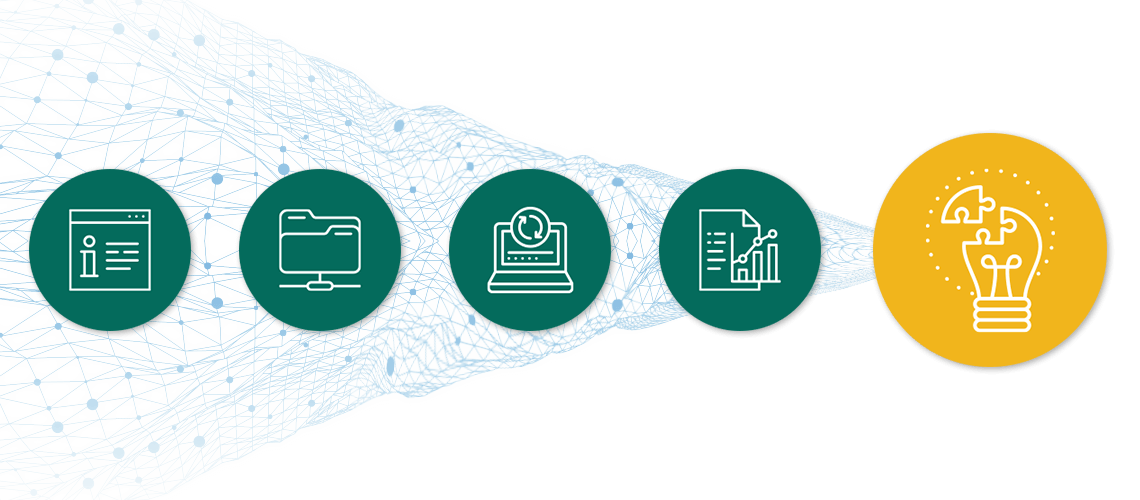 All this to help our partners identify issues, predict impacts, manage costs, and make decisions
Data strategy
Data strategy is essential to an effective analytic approach. Defining an enduring data strategy helps ensure that your investments in data technology, business processes, and people yield action-oriented insights. Our team collaborates with you every step of the way, applying our technology expertise and a focus on human-centered design, to refine your questions, identify the data you already have and the data you need to acquire and explore how to link relevant data to get the best insights. With a data strategy that stands the test of time, you'll gain clarity and confidence about where to go next as you use data to inform your decisions and investments.
Data collection and acquisition
Working together, we assess the complexity of your data collection needs and create an interconnected, unified data collection approach. We design and administer primary data collection, extract and interpret unstructured data including electronic health records, web and social media scraping, process high-quality secondary data such as administrative data, and use hybrid methods to help you uncover insights to support change. Everything we do is grounded in rigor we use diagnostic and evaluation protocols to confirm that the data we supply aligns with your analytical needs.
Our services and products include:
Secure data management
Our data management approach begins with our commitment to trusted data custodianship. With industry-standard security and compliance practices as a minimum baseline, we embed security into each phase of the data life cycle—including data acquisition and import; data organization and transformation for use in visualizations, analysis, and specific applications; and final data disposition. Our data ecosystems are purpose-built to balance appropriate access and transparency of data use practices with vigilance in protecting privacy and monitoring for, and protecting against, internal and external threats.
Our services include:
Data analysis
To help you get to real-world solutions, our rich array of data science and analytic tools— including models, algorithms and predictive analytics, machine learning, and natural language processing applications—help surface insights and understanding that identify program and policy issues, predict impacts, manage costs, provide decision support, and maintain program integrity.
Our services include:
Data dissemination
To help unlock the true power of your data as a tool for program improvement and decision support, our programmers, designers, and data analysts partner with you to present complex data in formats that are accessible, intuitive, and progress-driven.
Our services include:
Progress Together: Becoming Data Driven
The promise of using data to make more informed decisions can seem straightforward. But using data to drive decisions about policies and programs is out of reach for many policymakers and program administrators at all levels. At Mathematica, we work with our partners from inquiry to insight, shining a light on the ways that data and evidence can be used to make a difference in people's lives. We understand the complexities of government data systems and the unique privacy requirements of working within the public sector. But we also know that the biggest hurdle to becoming data-driven is often just getting started. Join us for a series of in-person and online conversations bringing together leaders from a variety of sectors to discuss the challenges of becoming data-driven and offering action-oriented, accessible advice on how organizations can take their first steps, or their next steps, to progress together.