Corporate Giving
Our Story
For 50 years, Mathematica's mission has been to improve public well-being through objective, evidence-based research across a range of social policy areas.
Combined with a focus on pressing problems, this mission has helped address some of the most pivotal policy issues of our time. Along the way we have helped improve the lives of our nation's—and the world's—most vulnerable citizens.
Closer to home, Mathematica employees make a difference in the lives of those less fortunate, too. Across the country, our employees volunteer in the communities where we live and work. Their spirit, dedication, and compassion put our mission into action. You'll find our staff working in soup kitchens and food pantries, building homes for the homeless, mentoring at-risk youth, and lending their professional expertise and skills to projects like evaluation design and website programming to organizations that aim to improve public well-being.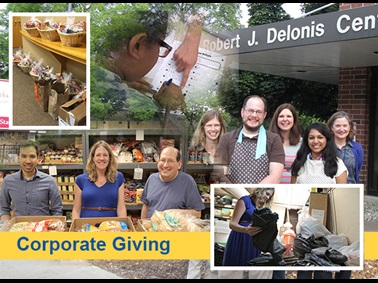 Mathematica recognizes these efforts through a corporate giving philosophy that translates volunteer work hours into direct financial support to each organization. Together, through sweat equity and direct support, we are making a difference.
Our Commitment
Mathematica is an employee-owned company, so our staff play a direct part in the company's success and direction. This approach also guides our take on volunteer work and corporate giving. Volunteer committees made up of staff members in each office reach a consensus on a charity to support, and these decisions are then backed by senior leadership.

We care about our local neighborhoods and work directly with home-grown and community-based organizations to work our mission at home, helping to improve health and well-being for at-risk families, those experiencing food insecurity, the homeless, dislocated workers, and vulnerable populations of all ages.

Learn more about local volunteer efforts in Washington, D.C., Princeton, Ann Arbor, Cambridge, Chicago, and Oakland. Meet Mathematica staff volunteering to make a difference in their local communities.