SOLUTIONS
Data Analytics
Harness data to steer policies and programs with confidence.
Let data light your path to progress.
Learn more about how our experts can help you organize data, identify issues, and predict impacts with data. Unlock insights
Unlock patterns and insights through advanced analytics and share them with engaging visualizations and dashboards to aid decision making.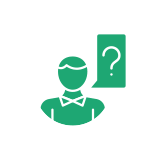 Ask an SME
Consult with our data scientists and analysts with subject matter expertise (SME) in specific fields to explore and solve complex issues. Manage complex systems
We understand the complexities of government data systems and the unique privacy requirements of working within heavily regulated sectors.
Data Analytics Solutions
Let's make progress together.
Partner with us at the intersection of data science, social science, and technology to progress from inquiry to insight to impact. Our evidence-informed solutions empower you to see clearly and act quickly.
CONTACT US
So we can help serve you better, please complete the form below. We will respond as soon as possible, usually within a few business days.
EVIDENCE & INSIGHTS
News
Mathematica Achieves Advanced Tier Status in the Amazon Web Services Partner Network
Mathematica has been recognized by Amazon Web Services for its expertise with the AWS cloud platform, deep bench of AWS-certified staff, and long-standing record of customer satisfaction.
Learn more
Related Staff