Feeding the Hungry
"Sitting behind a desk all day, it's easy to lose a sense of community in this big city," explains Jennifer Walzer, survey specialist and volunteer coordinator for Mathematica's work with Lakeview Pantry, located just 30 minutes from the Chicago office. Volunteering to help eliminate hunger in the Windy City offers Jennifer and other Mathematica staff a chance to connect with each other and their neighbors. It also provides perspective on families struggling with food insecurity.
"We do a variety of things for the pantry," says Jennifer. "We help set up the food and stock all of the shelves based on the pantry's organization system." Mathematica volunteers help check in and distribute materials to families. Chicago routinely turns out about a dozen volunteers for hands-on work at the pantry each year. In addition to this on-the-ground help, the Chicago office uses office contests to help support the pantry through cash donations.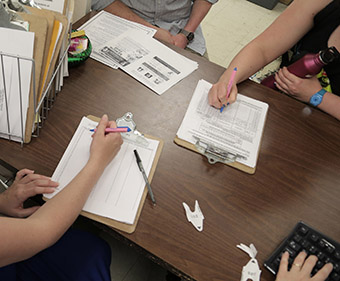 "Working on the front lines, so to speak, really has changed my perspective on how some of the high level policy changes, such as adjustments to Supplemental Nutrition Assistance Programs, can impact the daily lives of those suffering from food insecurity," says Walzer. By extension, this outlook has changed how she views Mathematica's overall policy work.
She adds, "It is just so rewarding to interact with the families, to see their appreciation. Once you get involved with volunteering, you just have to keep going back."

Intersections: Where Research Meets Real Life
Learn more about Mathematica's Nutrition research.