Serving up Hope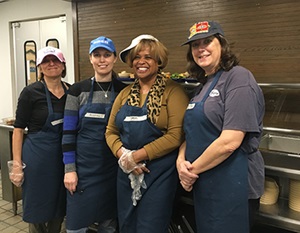 At Miriam's Kitchen, help begins with a meal. "That's the starting point," explains Jim Reschovsky, a senior fellow at Mathematica and the volunteer coordinator guiding our efforts to help Miriam's Kitchen, which aims to end chronic homelessness in Washington, D.C. "Offering a warm, nutritious meal is vital to the health and well-being of those living on the streets, but it serves as the entryway for social workers get to know clients, assess their situations, help them get the support they need, and ultimately place them in permanent supportive housing" he adds. Support for homeless guests range from help in applying for public assistance; referrals to health services; therapeutic activities such as writing, art, and poetry; and even haircuts. Miriam's Kitchen additionally advocates for greater funding for supportive housing and continues to support those whom it has housed.
For three decades, Mathematica staff from the Washington, DC, office have worked in the kitchen and dining room as servers and cooks. This happens twice a month, once for a breakfast shift and once for a dinner shift. Indeed, Miriam's Kitchen recently awarded Mathematica its Volunteer Organization of the Year, not for the length of the relationship between the two organizations, but because Mathematica volunteers distinguish themselves in terms of their reliability, dedication, and hard work.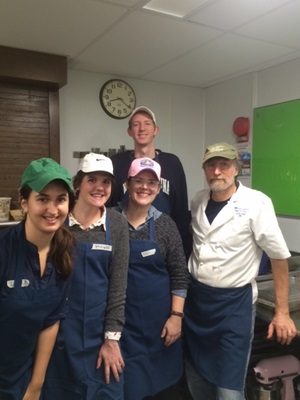 "Helping prepare and serve meals is the primary activity. But we really contribute so much more," says Jim. In addition to serving up warm meals, Mathematica volunteers have contributed services ranging from yoga lessons and to guidance on evaluating the effectiveness of the organization.
For Jim and other Mathematica volunteers, volunteering at Miriam's Kitchen is a natural outgrowth of their professional work.
"We're an organization with a mission of improving the public well-being, with much of our work focused on helping the disadvantaged," he says. "Volunteering at Miriam's Kitchen is a natural extension of our work activities. It is especially gratifying because it allows you to put a human face on those you are helping while spending time with like-minded Mathematica employees who want to take that commitment to a personal level."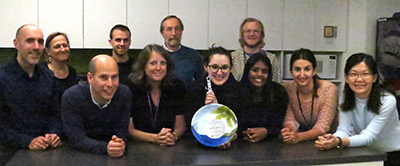 Intersections: Where Research Meets Real Life
Learn more about Mathematica's work in Health, Family Support, and Nutrition.