CMMI, Mathematica Strengthen Primary Care Partnership
CPC+ Initiative Set to Test the Effects of Transforming Thousands of Primary Care Practices
The Center for Medicare & Medicaid Innovation (CMMI) in the Centers for Medicare & Medicaid Services (CMS) has selected Mathematica Policy Research to evaluate the largest and most ambitious reform of primary care payment and delivery ever tested in this country—the Comprehensive Primary Care Plus (CPC+) initiative. Primary care is an essential component of effective health care delivery, and Mathematica researchers will apply their decades of experience studying primary care as they test and rigorously evaluate the transformative effects of CPC+ in 18 regions across the United States.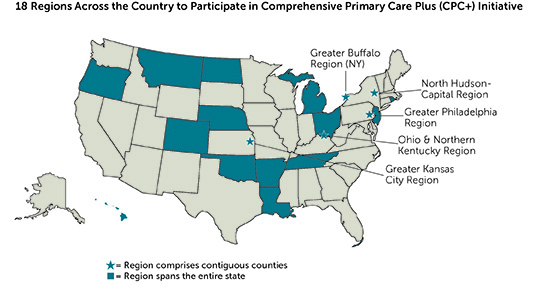 CPC+ builds on the original Comprehensive Primary Care (CPC) initiative of 2012. Like CPC, CPC+ is designed to help primary care practices transform five areas of care delivery: access and continuity, care management, comprehensiveness and coordination, patient and caregiver engagement, and planned care and population health. This transformation, in turn, is designed to improve the quality of health care, lower costs, and enhance patients' and providers' experience with care.
CPC+ will expand on CPC by transforming thousands of primary care practices. Practices will participate in one of two transformation tracks:
Track 1 practices will deploy many of the same transformation activities that were part of the original CPC.
Track 2 practices will pursue more intensive transformation focused on delivering more comprehensive medical care and social services.
For CPC+, Medicare is partnering with a network of 61 public and private payers to provide substantial financial support to practices and align incentives for primary care transformation, while offering more innovative payment models to encourage transformation and better health outcomes. CPC+ will also offer learning supports to help practices transform care delivery, and participating payers will give practices feedback on their patients' health care quality, cost, and utilization, and on their experiences with care.
Project director Debbie Peikes describes how the team will approach the CPC+ evaluation: "CPC+ provides a tremendous opportunity to test a large-scale, multi-payer approach to improving primary care. We are excited for the opportunity to evaluate this important initiative, and will conduct a rigorous mixed-methods study using traditional and cutting-edge techniques to study how practices implement the two tracks, and how changes in delivery of care translate to improved outcomes. We will examine effects on a range of outcomes, including patient experience, costs, service use, quality-of-care measures, and clinician and staff satisfaction with the initiative."
Read more about Mathematica's wide-ranging research on primary care reform, including the original CPC evaluation.
---