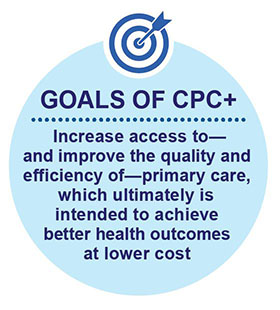 To forge a path to progress in improving health care and reducing costs, payers, practitioners, and policymakers increasingly agree that we need to strengthen primary care. Mathematica's seasoned experts continue to lead research and provide evidence on primary care transformation to support a national shift in care delivery. Recently, Mathematica completed the first annual report of its independent evaluation of Comprehensive Primary Care Plus (CPC+), the largest and most ambitious primary care and delivery reform ever tested in the United States.
Mathematica is collaborating closely with the Centers for Medicare & Medicaid Services (CMS) to assess whether CPC+ achieves its goal of increasing access to—and improving the quality and efficiency of—primary care, which ultimately is intended to achieve better health outcomes at lower cost. The evaluation also examines whether CPC+ enhances primary care physicians' experience. The research builds on Mathematica's evaluation of the Comprehensive Primary Care (CPC) initiative, known as "CPC Classic."
The report and accompanying at a glance fact sheet cover the first year of CPC+ for the 2,905 participating practices in regions that began CPC+ in 2017. It examines (1) who participated in CPC+; (2) the supports practices received; (3) how practices implemented CPC+ and changed the way they delivered health care; and (4) the impacts of CPC+ on cost, service use, and limited claims-based quality-of-care outcomes for attributed Medicare fee-for-service (FFS) beneficiaries. A supplemental volume and appendices are also available.
Key findings from the first year include:
CPC+ provided practices with significant supports in the first year. CPC+ practices received a significant amount of enhanced and alternative payments, data feedback, and learning support from CMS and other payers, as well as health IT support from their health IT vendors.
CPC+ practices started changing care delivery in 2017. Many CPC+ practices focused on identifying—and predicting—which patients are at high risk, hiring and deploying care managers, and integrating behavioral health into primary care in 2017. Practices with prior transformation experience, such as a Patient-Centered Medical Home model, and access to resources and supports from a larger health care organization found implementation to be easier.
CPC+ practices thought their work was making a difference, but found aspects challenging. Nearly all practices (93 percent) reported that CPC+ improved quality of care. However, many practices found meeting the care delivery, financial reporting, and health IT requirements burdensome.
Primary care transformation takes time to implement. As expected, CPC+ had minimal effects on Medicare FFS beneficiaries served by practices that began CPC+ in 2017. There were few, very small differences in service use and quality-of-care outcomes or total Medicare expenditures without enhanced CPC+ payments.
"We are delighted to continue building on our groundbreaking research on primary care transformation. Our evaluation findings from the first year of CPC+ were consistent with previous primary care studies, including CPC Classic," said Deborah Peikes, project director and senior fellow at Mathematica. "We are learning a lot about how to support practices in transforming care. While it's too early to know whether CPC+ will ultimately improve key outcomes for Medicare FFS beneficiaries, perhaps as the practices deepen and expand care delivery changes, we may find some emerging effects on patient outcomes."
Future reports will focus on additional findings as the evaluation continues.