Over the last 25 years, incremental changes in the kind of milk offered in school meals have had a substantial effect on lowering the average total and saturated fat content of these meals, according to an analysis by Mathematica Policy Research. Mathematica's insights, gained from its experience leading the U.S. Department of Agriculture's School Nutrition Dietary Assessment (SNDA) studies, are detailed in a new issue brief.
Mathematica researchers examined how the findings of the four SNDA studies, conducted between school year (SY) 1991–1992 and SY 2009–2010, influenced school nutrition policy in the 1990s. The issue brief highlights the importance of milk's fat content in determining the levels of total fat and saturated fat in school meals. The first study revealed that saturated fat accounted for 14 percent of all the calories in an average school meal; 3 percent of saturated fat calories in the meal came from milk. By the time of the third study, 11 to 12 percent of total calories came from saturated fat, and milk only accounted for about 1 percent of the meal's saturated fat content.
"This analysis of a single component offered in school meals—milk—shows that a small dietary change can greatly affect healthy eating practices. It has larger implications for ensuring that school meals not only provide children with proper nutrition, but also help to prevent overweight and obesity and reduce the risk of chronic disease later in life," said Mathematica senior researcher Anne Gordon.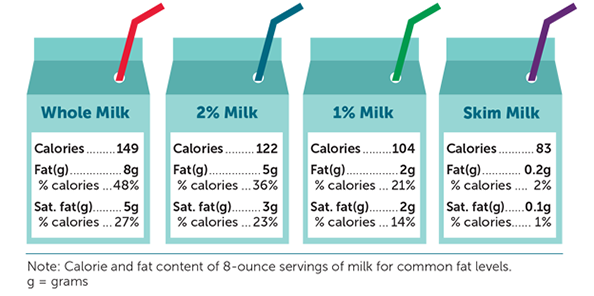 Evolving School Meal Policies
The U.S. Department of Agriculture established the National School Lunch Program (NSLP) in 1946 to combat malnourishment. On an average day in 2015, the NSLP and the School Breakfast Program (SBP) provided 31 million lunches and 14 million breakfasts, respectively. Seventy-five percent of school lunches and 85 percent of breakfasts are provided free or at a reduced price.
The first SNDA study found that, on average, school lunches offered higher levels of total fat, saturated fat, and sodium than dietary guidelines recommended. Compelled by these findings, Congress passed a law requiring school meals to comply with the Dietary Guidelines. Quantitative standards for fat and saturated fat were set by the School Meals Initiative for Healthy Children (implemented in SY
1996–1997).
Milk and Saturated Fat Content: A Significant Improvement
A dramatic decline in the number of schools offering whole and 2 percent milk in lunches was largely responsible for the overall decrease in fat and saturated fat. In SY 1991–1992, almost all elementary, middle, and high schools offered whole milk, but in SY 2009–2010, 4 percent or fewer of them did. Between 1991 and 2005, significantly less of the saturated fat in school meals came from milk. This shift toward offering skim and low-fat milk contributed greatly to the healthier meals and reductions in total and saturated fat.
Because so many American children rely on school meals, the SNDA studies provide valuable insight into the nutritional quality of those meals and are an important resource for federal policymakers. Changing the type of milk offered in school meals has been key to reducing the amount of saturated fat they contain. The SNDA studies provide a benchmark for policymakers, proving that simple changes in meal options can result in healthier school meals.
Learn more about the SNDA studies and other Mathematica nutrition research.