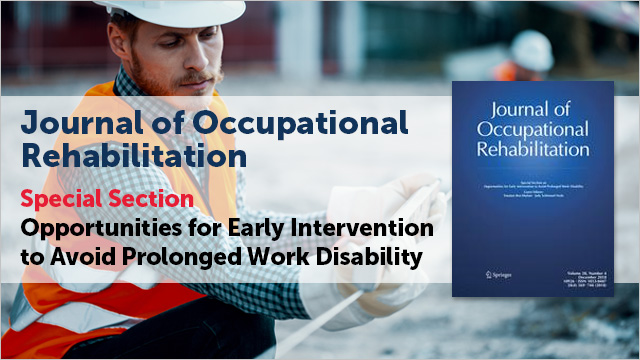 Every year, millions of Americans experience injuries or illnesses that cause them to lose their jobs or leave the workforce, events that have serious consequences for their standard of living, access to health care, and social well-being. A growing body of evidence shows that interventions targeted early to the right people are critical for keeping those with medical conditions working. A special section of the Journal of Occupational Rehabilitation called Opportunities for Early Intervention to Avoid Prolonged Work Disability examines how to efficiently identify and provide timely support to workers with medical conditions. Contributions by several Mathematica researchers and other experts explore employers' decisions to accommodate and retain workers as well as how disability insurance and workers' compensation claims data can serve to identify and target people for early interventions.
This special section was made possible by funding from the Rehabilitation Research and Training Center on Employment Policy and Measurement (EPM-RRTC), which is funded by the National Institute for Disability, Independent Living, and Rehabilitation Research.
Employers' Perspectives on Accommodating and Retaining Employees with Newly Acquired Disabilities: An Exploratory Study is an insightful look into employers' decisions to assist workers with health problems. The authors identified six factors that influenced employers' efforts to accommodate and retain workers, but these efforts appear to be influenced by the characteristics of their workers. These findings suggest public programs could focus interventions on workers that are more likely to be overlooked by employers with scarce resources.
Early Identification of Potential SSDI Entrants in California: The Predictive Value of State Disability Insurance and Workers' Compensation Claims gauges the usefulness of states' short-term disability claims data in finding workers at high risk of leaving the workforce and starting Social Security Disability Insurance benefits. The authors found that information in initial claims can help identify workers whose benefits are likely to last 12 months. Collecting additional information from workers when they begin to receive benefits could further improve the efficiency and timing of interventions.
Benefit Duration and Return to Work Outcomes in Short Term Disability Insurance Programs: Evidence from Rhode Island's Temporary Disability Insurance Program examines whether there are any correlations between the characteristics of the people enrolled in the disability insurance program and how long they received benefits. The authors found that the worker's diagnosis and the specialty of the treating health care provider are strong predictors of the duration of Temporary Disability Insurance Benefits. They also found that workers who choose to participate in the partial return-to-work option earn more before their claim and need the partial return-to-work benefit for a shorter length of time.
Using Predictive Analytics for Early Identification of Short-Term Disability Claimants Who Exhaust Their Benefits uses claims data from a large database of employer-based benefit programs to predict which workers will exhaust their short-term disability benefits and start using long-term disability insurance. The authors found that age, primary diagnosis, and an employer's industry are strong predictors of short-term benefit exhaustion and the start of long-term disability insurance. The authors also found that waiting for short-duration claims to close can improve targeting early interventions to those most likely to benefit. But doing so is a tradeoff, because delaying intervention can make it less successful.
Register to attend the EPM-RRTC State of the Science and Annual Disability Statistics Compendium Event

February 12-13, 2019, Washington, DC

The contents of the special issue, as well as other new disability employment research, will be discussed in detail at the 2019 EPM-RRTC State of the Science conference in Washington, DC. It is free to participate in person or online. Register at https://researchondisability.org/2018reg.