Inform climate action with data and build resilience across communities.
Climate change is the defining policy challenge of the 21st century. To tackle the climate crisis, we must develop innovative, sustainable solutions that meet ambitious emissions reductions targets while making vulnerable communities more resilient. As domestic and international policy align to combat climate change and the challenges it creates, rigorous research and advanced analytics are key to helping agencies and foundations mobilize resources for climate action. Drawing on our expertise in health, human services, data science and analytics, and international research, including energy, agriculture, and water, we support the design of solutions that help our clients address the multi-sectoral challenges that climate change poses.
Our climate change experts provide government agencies and foundations with:
Evaluation and measurement to assess effectiveness of climate change policy to understand the multi-sectoral impacts of climate policy interventions
A full-service learning partner across the strategy lifecycle, working with our clients to develop strategy, design interventions and build capacity, generate evidence, and disseminate and apply lessons
Platforms, dashboards, and visualization tools that collect and use high-frequency, crowd-sourced climate change data with enhanced spatial and temporal resolutions to enable predictive modeling and real-time analysis
Analytical tools and models to evaluate sustainability scenarios, track resilience, and prioritize interventions
Technical assistance to build capacity to design and implement monitoring, evaluation, and learning (MEL) activities that drive climate action

Our Climate Action Focus Areas

We help clients understand climate change impacts and explore solutions across a range of sectors, including agriculture, energy, water, sanitation and hygiene, education and workforce, livelihoods and economic stability, and health and nutrition.

The agriculture sector is both a central contributor to climate emissions globally and an essential source of rural livelihoods and economic stability that are threatened by climate change. We apply extensive knowledge of agricultural systems challenges to help our clients and partners understand the effects of interventions designed to improve their performance and sustainability internationally. Through our agriculture evaluations, we help clients understand the impacts of improved and sustainable farming practices, improved water management, post-harvest technologies, and how agricultural productivity impacts smallholder farmers.

Access to modern energy services is necessary to enhance economic opportunity and economic stability, improve living standards, and increase national and regional resilience to climate change. We provide data collection and data analytics solutions that help our clients understand energy usage, inform policymaking, and analyze the efficacy of green energy investments. We are currently helping the Millennium Change Corporation understand how its investments could lead to more reliable and higher quality electricity in Benin, Ghana, and Liberia, in addition to previous work in Tanzania.

Cities are on the frontlines of global climate change: they are the source of most energy-related greenhouse gas emissions and face high risks associated with rising sea levels and temperature shocks. Enhanced measurement of urban emissions can be a key force to enable compact, resilient, and resource-efficient cities that drive economic and environmental progress. We study the role of emissions measurement, including ways to use technical assistance to support efforts to measure and reduce greenhouse gas emissions. We also bring deep familiarity with measurement protocols, such as the Global Protocol for Community-Scale Greenhouse Gas Emission Inventories (GPC) and data bases that track city emissions and city actions.

Historically marginalized communities that often bear the least responsibility for causing climate change are disproportionately exposed to climate-related natural disasters. Just as exposure to these extreme weather events is unequal, so too is susceptibility to their health effects. Using advanced analytics and dynamic visualizations, we surface the complex relationships between exposure, sensitivity, and capacity, and identify who is most vulnerable to climate-related health issues. In so doing, we help clients understand the conditions that should trigger emergency warnings to protect vulnerable residents and help communities and health systems bolster their climate resilience.

Investments designed to slow down climate change or protect populations from its negative effects have the potential to generate new green jobs. We help policymakers and other stakeholders anticipate the number, types, and quality of these green jobs. Our work also focuses on ways to increase equitable access to these jobs, particularly among historically underserved communities and those displaced from other jobs. We are studying the job opportunities directly and indirectly created by World Bank-funded projects to support the transition to clean energy in parts of Latin America, Africa, Asia, and Eastern Europe. Our researchers have also evaluated U.S. Department of Labor programs designed to prepare disadvantaged workers for green jobs.
Featured Project
ClimaWATCH: An Interactive Tool to Boost Climate Adaptation and Resilience
As part of a new Climate Change and Health Analytics initiative, we have developed a tool for exploring the impact of heat waves on health and equity at the national, state, and local levels. Watch this four-minute video to learn more.
Explore ClimaWATCH
Evidence and Insights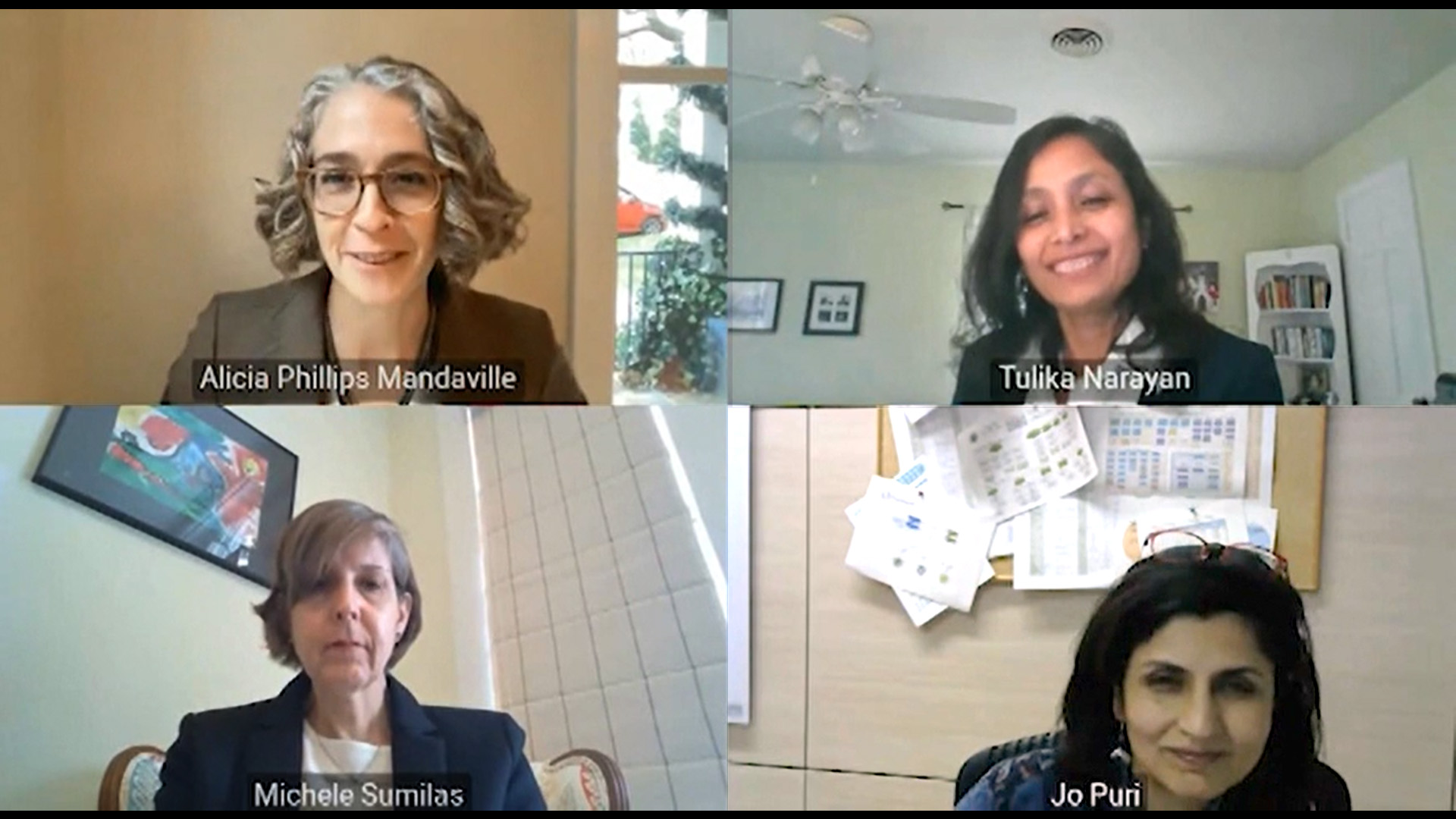 Event
Leaders from IFAD, MCC, and USAID Discuss Evidence Informed Climate Action
Discussion topics included: how increased urgency around climate change is shifting priorities to focus on strategies such as climate change adaptation, the biggest barriers and opportunities to achieving success, and how data and research can help overcome these barriers.
Learn More
Partners In Progress
Solutions
Progress is best made together.
Partner with us at the intersection of data science, social science, and technology to progress from inquiry to insight to impact. Our evidence-informed solutions empower you to see clearly and act quickly.