Improving Global Sanitation: Lessons on Infrastructure Construction in Lusaka, Zambia
Today is World Toilet Day, a day to raise awareness that 4.5 billion people live without a safe toilet, which has caused a global sanitation crisis. Flushing toilets are ubiquitous fixtures in households across the United States, but toilets are a luxury in the cities of developing countries such as Lusaka, Zambia, where I've been working with my Mathematica colleagues to evaluate investments in sanitation, water supply, and drainage infrastructure for the Millennium Challenge Corporation (MCC).
A few insights from my experience working in Lusaka may help put this urgent challenge in perspective. To start, many households are not connected to a sewer network and lack a reliable supply of water. Even if they had access to better infrastructure, these households still face financial and social disincentives to connecting to a sewer network.
Many parts of Lusaka do not have a sewer network; three-quarters of households in the city's poorer neighborhoods rely on unimproved pit latrines for sanitation. These are cheap alternatives to indoor plumbing, but they pollute an important source of drinking water because the city gets much of its water from groundwater aquifers that are not very far below the surface.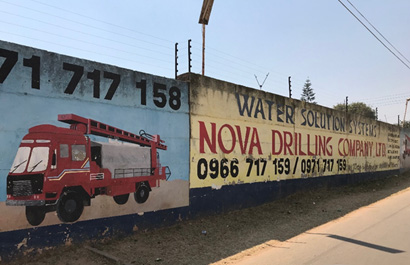 In addition to water quality, water supply is a problem for Lusaka residents. The local utility doesn't have enough treatment capacity to meet demand, and a lot of water leaks out through the aging pipe network, leading to frequent supply disruptions. Inadequate water supply is such a major worry that richer residents often turn to private enterprise to drill boreholes for access to the groundwater.
To address the myriad inefficiencies and health problems related to inadequate sanitation and water infrastructure, in 2013, the MCC entered into a compact with the government of Zambia to invest $354 million in water, sanitation, and drainage infrastructure rehabilitation and expansion in Lusaka. As a researcher, I had the opportunity to travel to Lusaka recently to help the MCC understand how implementation of critical infrastructure improvements had progressed. The trip reinforced my appreciation for the potential of basic investments in infrastructure to change lives. In the United States, indoor plumbing and safe drinking water are typically so available that you do not even think about them. People in developing nations, however are not able to take these necessities for granted.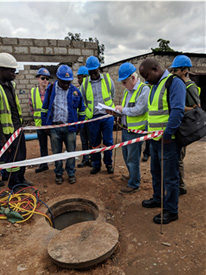 In Lusaka, major improvements are visible in the rehabilitation of wastewater stabilization ponds and water treatment facilities, the installment of new sewer and water pipes, and the construction of storm water drains. And yet, these important infrastructure investments are only a first step in solving Lusaka's sanitation and water problems. During my conversations with stakeholders, many pointed to the challenges of ensuring that households connect after the sewer and water networks are built.
Indeed, the tougher challenge is solving the more human aspects of the problem. In Lusaka, households face weak incentives to connect to the sewer network. When the sewer network is extended, households are expected to abandon their cheap pit latrine and build a toilet that they connect to the network. But a toilet is expensive, costing about $500. A household will also have to incur the costs of higher water bills that come from flushing the toilet after each use. It is unclear how households that already struggle to make ends meet will be able to afford these ongoing costs. In addition, the water supply is unreliable, making households more reluctant to use a toilet if they know they cannot flush it all the time.
The health benefits of an improved sanitation and water infrastructure depend on enough households in the target community abandoning their pit latrines and switching to toilets connected to the sewer network. But it is difficult to be the first adopter in a neighborhood, especially when the health benefits may not be immediately noticeable. Adoption might be slow, despite the fact that last year's terrible cholera epidemic in Lusaka underscores how urgently the city needs to improve sanitation and water quality.
In our meetings with community stakeholders in Lusaka, there is a recognition that the underlying disincentives could undermine the intended effects of the new infrastructure. An initiative called the Sanitation Connection Action Plan aims to get households connected to the sewer system. The initiative is working to raise local awareness of the benefits of sanitation, inform households of toilet options, introduce them to plumbers, and provide financial assistance to the poorest households that may be used for the purchase of toilets.
Infrastructure is an important piece of MCC's investment portfolio in developing countries. In fact, the agency has funded a similar series of investments of about $350 million in the water sector in Ulaanbaatar, Mongolia. As we continue to provide the Millennium Challenge Corporation insights on the impact of its infrastructure investments on the residents of Lusaka, we're eager to draw on broader lessons that will help them build and implement toilet and sanitation systems to improve public health and living conditions for the people around the world, who, as we remember today, are living without access to a safe toilet.